UMKC racing team races for success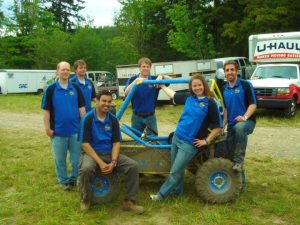 The UMKC Society of Automotive Engineers (SAE) is gearing up for their next big win.
The group, sponsored by the School of Computer Engineering (SCE), is currently in the designing and building stages of their buggy.
SAE is currently a team of more than 18 students and is working to construct its potential award winning buggy.
SAE plans to enter their buggy into the Baja Buggy Competition which will take place May 26-29 in Pittsburg, Kan. and June 8-11 in Peoria, Ill.
"We restarted the UMKC racing team two years ago," said SAE President Francisco Garcia.
In 2009, SAE finished in 71st out of 100 in an Alabama competition.
In 2010, SAE finished 51st in South Carolina, and 41st in Washington.
"My goal for this coming year as president of the SAE and team captain is to go to Pittsburg and Peoria Ill. next year and compete in the top 20," Garcia said.
Recently, SAE was featured in the local publication Dos Mundos for its past success and plans to enter its buggy into future competitions.
SAE is a student organization that has a deeply-rooted history in American culture.
In 1905, The Society of Automobile Engineers was founded.
The first president was Andrew Riker, a man known for unofficially breaking the land speed record in 1901.
"This low-slung 1901 racer did a mile in an unofficial 63 seconds, reflecting Riker's motor- sporting interests," www.speedace.info says.
Henry Ford, the man who not only founded but also led the automotive industry through the Great Depression, served as SAE vice-president.
Elmer Sperry, member and co-inventor of the gyrocompass created the word "automotive" by combining two Greek and Latin words autos meaning "self," and motivus meaning of "motion," which later led to the name change to The Society of Automotive Engineers, as it is known today.
The society was supported by none other than Thomas Eddison, Glenn Curtiss, Glenn Martin and Orville Wright.
The mission of SAE is "to provide students with real world engineering experience. The whole experience of the buggy relates to what students will face in their engineering careers: design, manufacture, problem solving and time management, working with a team, budgets and networking skills."
For more information on the Society of Automotive Engineers, please go to www.sae.org.