Should fans 'Runaway?'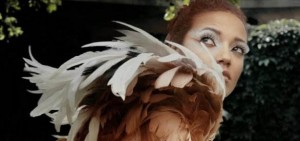 Rapper Kanye West recently released his short musical film, "Runaway."
The 34-minute film's scenes depict a very avant-garde, theatrical quality that is very pleasing.
From what I gather, the story of "Runaway" is quite obscure.
Similar to Pink Floyd's "The Wall," the film is probably only fully understood by its director, West, and writer Hype Williams.
In the film, West finds a bird woman, played by former Victoria's Secret Angel Selita Ebanks, from another world burst from flames on a foggy country road.
The costume work on the bird woman was rather exceptional, especially when she spreads her wings when she sees the cooked turkey for dinner.
Clad in colorful feathers and suggestively-placed clothing, Ebanks should be used to this.
West somehow manages to fall in love with the bird woman, and that's basically what the film is about.
I sense West didn't intend for the story to be the dominant aspect of the film.
To me it seems like a glorified music video, which can be cool.
Unfortunately, West's lyrics do not match the illustration in each scene.
Most of the time, West is teaching the bird woman how to live on earth.
But in the background he is busy talking about going over the edge, bright lights and somehow worked in a marching band tribute to the late Michael Jackson.
What makes this musical film worth watching is its visual quality.
Obviously filmed in HD, the film features vivid colors from skin tone to the deep red of the flames from the explosions.
The composition of filming adds a very dramatic tone to what little story there is.
One scene in particular that is interesting is the performance sequence of "Runaway."
It is the simplicity of this scene that makes it great: West singing at a piano, the ballet dancing some form of contemporary dance and a dinner party with the bird woman as the audience.
The colors in this scene all seem to clash and stand out against each other: the white from the clothing, the black of the ballet dress and the gray and green tones of the environment.
Color may have been a dominant role in this film.
If not, then it truly was a wonderful happening.
Overall West's most recent attempt to relay his talent in a musical film was a pleasant experience.