Communiversity turns 40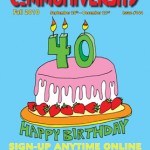 It's time to sing "Happy Birthday" to UMKC's Communiversity.
Founded in 1970, the free university turns forty years old this September.
Communiversity was founded on the ideals of the community. Teaching outside of the classroom and presenting fun subjects has brought the program much success.
Communiversity offers classes for people of all types, ages, professions, and beliefs.
"We offer a diverse catalogue of classes five times a year. Subjects include walking tours of historic districts, art classes, first-time home buying workshops and
even a class on how to transform [your] lawn into a garden," explains
the Communiversity Fall 2010 Course Catalogue.
Communiversity is not only a free university because UMKC students enroll without charges, but also because it doesn't have the restrictions an academic university may have.
"I have taken so many good classes, and, yes, I took some that were not so good, but the one I got the most from was 'Yoga for all Ages,' which I took in 2006," former Communiversity student Larry Roth said. "I learned a yoga routine that did not require me to go out and buy a bunch of stuff. I kept doing the routine, and I am still doing it six days a week, four years later."
The Communiversity program, now located in the new Student Union and operated through the Office of Student Involvement, is a non-academic, non-credit educational program.
"I encourage students to take advantage of the courses. About twelve percent of our enrollment is students," Coordinator of Communiversity Rick Mareske said. "Communiversity is a great window to the city and other opportunities, not a typical window, but a good window."
Communiversity believes that everyone has something to teach. Everyone has a skill to pass on and share with the community, or even the world.
Free universities became popular in the 1960's through the radicalism period. They came to
Kansas City until the mid 1960's when Bill Laing founded the Kansas City Free University.
"Communiversity represents a real effort on the part of UMKC to reach out to Communiversity. It is an important, positive effort and worth not only maintaining but expanding," Professor of Sociology Phil Olson said.
Today, Communiversity tries to maintain the original ideals on which Communiversity was founded.
"I've tried to keep the original ideals intact. I offer a forum for people to share a skill or idea," Mareske said.
Over the years, Communiversity grew and changed to better suit UMKC Students, Faculty and Staff and even the people in the Kansas City community.
"I was an instructor thirty-two years ago and still maintain friendships with the students I taught at that time," Former Kansas City Mayor Dr. Charles Weaver said.
Communiversity shared one of the secrets of its success.
"We've always kept everything fresh, with new people and new ideas," Mareske said. "It's a rare thing to do something really different and have it survive."
For more information on Communiversity or courses offered go to www.umkc.edu/commu or pick up the latest issue of the course catalogue.