Men's basketball preview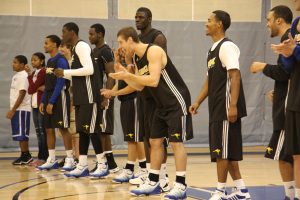 The 2010- '11 UMKC men's basketball team holds an advantage over previous squads, the Roos may be able to benefit more from the home crowd than in the past.
The Roos moved into the renovated Swinney Recreation Center and because of this have more home games on the schedule than in any of Head Coach Matt Brown's previous three seasons.
"Fifteen home games, playing on campus giving us a real home-court advantage," Brown said. "I think those are pretty big advantages for us."
The Roos will play 14 of those games at Swinney and one at Municipal Auditorium, the team's former home.
Road games against Big 12 favorites Kansas and Kansas State and NIT participant Wichita State also highlight the schedule.
"We played Kansas two years ago and we played them very well," Brown said. "We play a lot of very good teams, our kids get excited to play that level of a game, but it is just one game."
Summit League games will be the focus however, where the Roos finished eighth in the 10-team conference with a 6-12 record last season before losing to top-seed Oakland 85-70 in the first round of the conference tournament.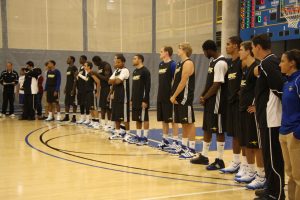 The enrollment and maturation of three seniors is imperative to the success of the team this season.
Forward Jay Couisnard led the team in scoring (14.0 per game) in his first season in a Roos jersey after transferring from University of Evansville, and will be the team's main scoring weapon again this year.
Couisnard may also be the team's best defender, using length and athleticism to disrupt passing lanes.
Guard Bakari Lewis may be counted on to take the really big shots though.
He hit two game-winners over conference opponents last season and has the ability to create his own shot. Lewis was also the team's most effective passer, recording a team-high 77 assists.
The third senior, forward Spencer Johnson, will be a threat to record a double-double every night and is the only player on the team to have been on the roster in each of Brown's first four seasons.
Having three experienced players who can fill different roles is something Brown believes will lead his team to a successful season.
"The opportunity to have three seniors, three young men I recruited," Brown said. "That's an advantage right there."
Juniors Dustin Dibble and Michael Gholston Jr. return to round out the guard rotation with former Wichita State transfer Reggie Chamberlain.
Two newcomers will be expected to enhance the team's physical presence. Junior college transfer Bernard Kamwa will provide much-needed strength in the post, but his hands may be too suspect for him to become a consistent scoring threat.
Freshman Trinity Hall looks to figure into the rotation immediately and could virtually fulfill the same role as Couisnard, albeit skinnier and a bit less prolific.
"[With Kamwa being] 6[feet]8[inches], 250 pounds, he'll really help us inside," Brown said. "We already had some pretty good perimeter scoring. We'll have a better balance of inside and outside scoring."
Sophomores Max Rockmann and Kirk Korver will log frontcourt minutes as role players with the ability to hit from the outside, with Korver being the youngest of a family famous for their shooting abilities.
The team has plenty of scorers, but where Brown needs to see the most improvement is on the other side of the ball.
"We need to get better in our half-court man-to-man defense," Brown said. "That's something we've really been stressing in the preseason."
He believes this can happen.
"We have the ability and the athleticism to be a very good defensive team," Brown said. "Hopefully, we can just transition it when we actually go out and play games."
Improved defense is imperative in defending the increased and enhanced home-court advantage the Roos will enjoy this season.
The defense begins this Friday at 7:05 p.m. against Truman State at Swinney.