English department recognizes student, faculty contributions to the Sosland Journal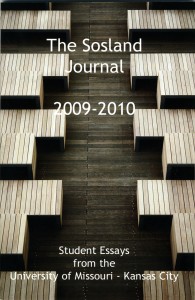 On Tuesday, the UMKC English department honored students and faculty for their contributions to the 2009-2010 edition of The Sosland Journal.
The journal is a compilation of student and faculty works chosen for exemplary writing and research abilities shown in research articles, poems and narrative works.
The English department began producing the journal in 2005 and is funded by Rheta Sosland-Hurwitt.
The Graduate Teaching Assistants (GTA) and Adjunct Professors that instruct the English 110 and English 225 courses assign their students to read articles published in the journal. The journal exposes them to the well-written and prize-winning material to promote their development as writers and encourage them to aspire to publish as well.
The Sosland Journal also features winners of the Ilus W. Davis Writing Competition. This year's winners include sophomore Alexandra Alpough of the six-year Medical Program, sophomore Matthew Parish of the School of Computer Engineering, Jennifer L. Nielsen of the Department of Physics and Alexandra Bennett of the School of Education.
The teachers of the introductory and intermediate level of English try to select topics that students can relate to.
"As teachers, we need to draw on what students already know," Craig Workman said.
Known as 'the zombie guy', Workman also received the Sosland teaching award along with the students on Tuesday.
Workman was awarded based on his interesting and challenging course criterion that entails themes of dystopia.
Another instructor, GTA Lindsey Quinn-Osman, was also awarded the Sosland Teaching Award for challenging her Arts & Sciences 100 students to do extensive historical research on campus that involved them going to the University Archives located in Newcomb Hall and the Miller Nichols Library.
Many of the university's faculty and staff attended the Sosland Awards ceremony. Among them was College of Arts and Sciences Dean, Karen Vorst.
"It's exciting to see young writers in print," Vorst said. "Writing is so important and [writing] is across the curriculum."
"The Sosland Journal" is not limited to students taking English courses or English majors.
Many of the Davis recipients are studying in programs ranging from education and mathematics to engineering and medicine.
Parish, the writer of "An Event to Remember," which is featured in the journal, is a computer science major who enjoys writing.
When notified of his win, Parish said he was surprised.
Writing is a versatile language that translates through all disciplines.
The GTAs and adjunct professors of the English department are to thank for the achievements.
"The faculty are also very instrumental in achieving this," Vorst said. "One thing our GTAs are good at is encouraging students to connect their personal lives to their writing."
For more information about The Sosland Journal or the UMKC English Department, go to http://www.cas.umkc.edu/English.