Indian Students Association celebrates holiday with Surabhi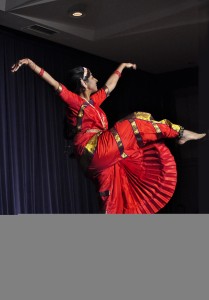 On Sunday, Oct. 24, the UMKC Indian Students Association (ISA), one of the largest organizations on campus, presented it's Surabhi show. It corresponds to the celebration of the Diwali Festival in India.
Filled almost to capacity, Pierson Auditorium was brightly festooned with drapes of fabric and bright balloons for the annual event, which marks the transition from the previous year's committee to the new committee, handing over the reins of the ISA organization to the newly elected officers.
"Each year we elect a new committee and then train them before the Surabhi celebration. [It] also marks the transition of responsibility to the new committee," said Srikath Guttikonda, the retiring 2009-2010 ISA president. "We want to see that they get a good start, and ensure a legacy for the organization."
Surabhi has been a formal UMKC event for six years. The ISA sees Surabhi not only as its annual hallmark event but also as a symbol of its main purpose for existence: cultural outreach.
The ISA's primary mission is to help students from India adjust to life at UMKC, help new arrivals find accommodations, give support when needed and help students transition into American culture.
In turn, the ISA also introduces American students to the splendor of India's rich and diverse culture.
This year's show included a mix of classical and contemporary music and dance, performed by students. After "Prayer Song," sung by Ramya Bhaskar, the organization's faculty advisor, Dr. Deep Medhi, professor of computer science, and the honored guest, Dr. Ashim Mitra, chairman of pharmaceutical sciences, together lit the ceremonial lamp.
The show commenced with lively, athletic Hip-Hop influenced Indian dancing to a medley of songs, by a young man identified only as "Rohit." Other performances by students included "Naresh Alligeti," "Aadit Modi," "Tarun," and a duet by Anu & Divya. A classical "Kuchipidi Dance" was presented by graduate student Nandini Parimi, who wore a striking traditional red and gold costume.
Also on the program were Amithab Choudhury (MBA student) on Tabla, with vocals by guest performer and UMKC alumnus, Raja Govindrajan, who works at Sprint.
"This year, the ISA is trying a new initiative to invite alumni and former members to partake in Surabhi and act as mentors to current Indian students," said Amit Choudhury, who performed with Raja Govindrajan. "Raja is here, not only as a great performer, but also as an inspiration and mentor for students who look to him as a role model."
Choudhury's entire family was involved in the Surabhi show this year. His wife, Sonali Ramya, did most of the decorations, including the elaborate "Rangol" peacock.
Their 9-year-old son, Siddharth Choudhury, also sang in the show, and was one of the highlights of the program.
"The song was from the film "Taare Zaneen Par," said his mother, Sonali Ramya. "In this song the singer is telling his mother that although he might not ever have the chance to express his feelings to her, he hopes she knows that during hard times, he thinks about her and cares about her, and thanks her for everything she does."
After the show, the ISA sponsored a dinner buffet of Indian food, catered by Masala and served at Royall Hall.