Movie Review: RED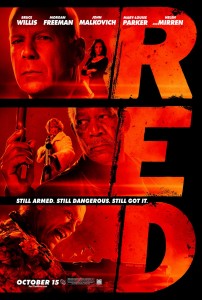 "Red" is a fictional story of Central Intelligence Agancy (CIA) retiree Frank Moses (Bruce Willis) whom the CIA is trying to kill. As he falls in love with pension assistance aide Sarah (Mary- Lousie Parker), he realizes he must kidnap her before she is killed.
With kidnapped Sarah, he contacts the rest of the CIA's top retired secret agents: Joe (Morgan Freeman), Marvin ( John Malcovich) and Victoria (Helen Mirrem). The retirees learn they have all been targeted because of their involvement in a Guatemalan case.
Escaping death at every turn, Sarah becomes part of the operation and falls in love with Frank.
When the CIA closes in on them, they are forced to give up one of their own to for the rest to survive, the Vice President of the United States.
Turning to help from Russian mafia leader Ivan (Brian Cox), they create an operation to kill the vice president. As they escape with the vice president they realize it was mogul Alex Dunning (Richard Dreyfuss), who ordered their deaths.
The retired agents must figure out a way to escape with their lives while bringing justice after being wrongfully targeted.
This movie was actually better than I expected from the previews. It has quick-witted characters, action-filled scenes and twists in the plot.
I was surprised to find how much comedy was also added to serious scenes. It was very well- done.
It could be described as a better version of "The Killers." The actors did a fantastic job. It reminded me why these actors get paid top dollar.
One aspect I didn't like was that Joe is the agent sacrificed. He is one of my favorite actors and did such a good job. Why couldn't it have been the crazy guy Marvin?
My favorite scene had to be when Frank, Sarah, and Marvin are shot at and Marvin is carrying a plush pig. Out of nowhere, Frank says "rip open the pig" and all these huge guns come out of the toy.
The screenplay was well written and the actors were great.
This movie is third at the box office, and I can see why.
I highly recommend it.