October-fest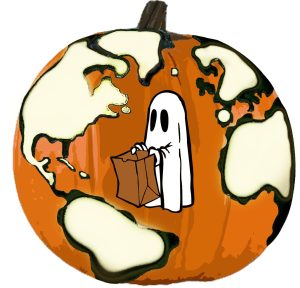 Halloween may consist of Jack o' lanterns, trick-or treating or Halloween parties for students in the United States, but around the world Halloween has different traditions.
Americans may be surprised to learn much of the world is not aware of the Halloween holiday.
UMKC student Sashi Saripalle said although Halloween is celebrated in India, most people are unaware of what the holiday actually is.
"India is a very diverse country, and yes, Halloween is celebrated," Saripalle said, "unlike in many other countries, Halloween is not known to many people."
Much more common to the people of India is a festival called Dussehra.
"Dussehra is a popular festival celebrated by Hindus all over India, albeit with different names. It is believed that it was on this day that Lord Rama killed the demon-king, Ravana, and rescued his abducted wife, Sita. In other words, it signifies the triumph of good over evil," Saripalle said.
Dussehra is also celebrated during the month of October.
Student, Olajumoke Olowu said Nigeria is a country that does not celebrate Halloween..
"We do not celebrate Halloween in Nigeria," Olowu said. "The only thing celebrated of national significance in October is our Independence Day, which is October 1. This year's was our Jubilee celebration, 50 years of Independence."
Like Halloween in the United States, Nigerian students do not get out of school for the day, except in special circumstances.
"Elementary students are selected to participate in a national parade that is covered and syndicated nationwide," Olowu said. "The president would usually give an address at this parade."
Those who are not chosen to participate in the parade can join in the festivities in other ways.
"For adult Nigerians, both inside and outside the country, there is a tendency to dress in the colors of the national flag (green and white) on this day," Olowu said. "The whole nation is celebrating with visits from house to house, a normal occurrence within a neighborhood. There would normally be a lot of cooking [and] eating in most homes, with dancing and loud music blaring from a lot of [houses] as well."
While Halloween is not celebrated in Cameroon, another traditional festival takes place, student Innocent Nsoh-Awasom said.
"In Cameroon, people don't celebrate Halloween because they don't know about it, but every community and every society once in a while has a social gathering where they celebrate and socialize in one way or the other," Nsoh-Awason said. "Cameroon is not an exception. Cameroon is very diverse in culture with approximately 200 different ethnic groups with similar but different cultures and beliefs."
A dance celebration even takes place in the northwestern part of Cameroon.
In Mankon, Bamenda (North West Province) specifically, there is a celebration similar to Halloween called Abine Forghe (the Fon's Dance). It is a dance celebration where the Fon (leader of the ethnic group), his entourage, the people and the village masquerade. The Fon's Dance usually takes place midsummer every year.
This dance is to honor the Fon and his royalty and to eat, dance, socialize and meet people. This day is a public holiday in Mankon.
"Everybody dresses in particular regalia which makes the event very colorful and beautiful," Nsoh-Awasom said.
Although there is no trick-or-treating involved, the celebration involves children.
"Children are also given a place in this celebration," Nsoh-Awasom said. "They don't get candy. However, they eat traditional food, dance too, compete with each other and engage in so many other fun activities. The celebration is one of a kind, which everybody in Mankon awaits every year."