UMKC Women's Center presents positive body image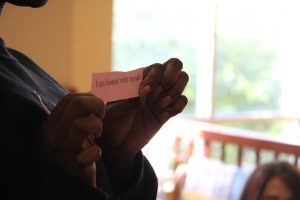 Monday, Oct. 18, UMKC's Women's Center set up a table in the Oak Street dormitories to promote positive body image among students. At the table were Women's Center Office Assistant Tayln Helman and Graduate Assistant for Programming Nikeisha Fortenberry.
"We are here for Love Your Body Day, and we want to let people know that they can love their bodies and that they shouldn't really strive for a certain number or weight," Helman said. "It doesn't matter what you weigh, it's who you are."
The Women's Center hosted the event to increase students awareness of body image issues and to steer them in the direction of positive body image.
Helman said no matter how you may look, you must embrace who you are.
"Particularly because we are the Women's Center, we deal with women's issues, [but] we are here for men as well," Fortenberry said. "We really just want to promote positive body image here at UMKC and within the community around campus."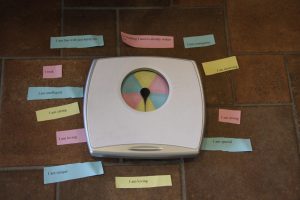 The Women's Center's target was female students but this event applied to male students as well.
Body image affects everyone no matter what gender.
The Women's Center made it a priority to include everyone at the event, especially through the scale set up as an interactive activity.
"The scale is an activity that we are using," Helman said. "If you stand on it you don't get a number, you get a color. These colors match up with pieces of paper that have slogans to enforce positive body image. It's to help people love themselves more through positive reinforcement."
By removing the numbers from the scale, the Women's Center eliminated the stigma of weight. They replaced numbers with colors that represented different slogans. The slogans were positive messages to students who participated in the activity.
Along with this activity, the table had multiple brochures and pamphlets to inform students on how to promote positive body image and do away with negativity.
"Our flyers and pamphlets will help you have better body image," Helman said. "We have a petition to stop 'fat talk,' which is a contract that says you will stop using words such as fat. We also have a several pamphlets that talk about body image."
The next step is for students to take measures outside of the event to promote positive body image.
The Women's Center has several events planned for this school year, if you would like to find out what is going on, Fortenberry encourages you to stop by the Women's Center.
If you are interested in being involved with UMKC's Women's Center, you can contact either Helman or Fortenberry at [email protected] or [email protected] [email protected]