A history in sport: 13 years strong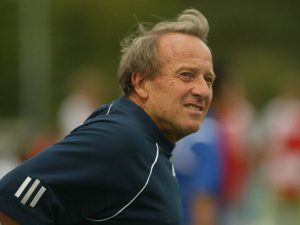 UMKC men's soccer head coach Rick Benben has seen a lot of change since he started coaching at the school 13 years ago, but one thing has remained constant: success.
The Roos have captured three regular season Summit League titles, made the league tournament in 11 of 12 seasons and appear to be on track to do the same this season.
Benben has won three Conference Coach of the Year awards (1999, 2001, 2003) and boasts the only victory in a NCAA tournament by any team in UMKC's history, a 2-1 overtime win over University of Wisconsin-Milwaukee in 2001.
Benben said this success does not come easy.
"Every year is a different challenge," Benben said. "Coaching is not an easy gig. You have to work at it."
Benben said coaching with his personality is a key to success.
"I tend to be a calmer coach, don't get too excited," Benben said. "But if something needs attention I can get a little crazy. These kids probably think I am nuts sometimes."
Personality alone does not make a successful coach. Benben said being selfless is also important.
"Through my experience I've learned that it's really about the players," Benben said. "It really doesn't matter what level you're coaching."
Even in the professional ranks, this is important.
"Even with the Comets [a former professional indoor soccer team from Kansas City], with the results being 99 percent of the success, we had a pretty close family," Benben said. "We cared about the players."
Benben said he enjoys coaching college players because of the challenge of developing good people.
He talked about three players who recently graduated despite struggles and mentioned seeing former players with their families at the alumni weekend.
The point he made was coaching is not about the coach but the people the coach develops.
However, results are still very important and getting good players is paramount.
"It starts with getting good players," Benben said. "You have to have players you know you can count on.
Benben said the recently-built soccer stadium and Student Union are key recruiting tools.
"The kids come in and see our new stadium and these great facilities," Benben said. "It definitely helps with recruiting."
It also helps to have a stable coaching staff.
Benben mentioned the contributions of every member on his staff, including associate head coach Fred Schlichting, who has been at UMKC with Benben for all 13 years.
"[Fred] is just as important to this program as I am," Benben said. "He does the same amount of work."
Schlichting was concise in explaining how Benben has helped him as a coach.
"I've learned a lot from him," Schlichting said. "He has been a great mentor. He's taught me a lot other than just soccer."
As UMKC looks poised to challenge for another conference title this season, Benben displays some confidence in his players.
"We have a good team," Benben said. "I think generally we play pretty well and can compete with any team in the country on any given night."
Yet Benben remains focused on the present goals, not the future possibilities.
"We're just focused on our next game," Benben said. "You know, same old coach cliché of 'one at a time.'"