Alumna Congresswoman passes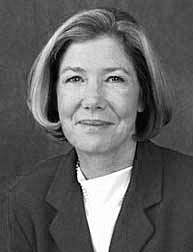 Former United States Congresswoman and UMKC alumna Karen McCarthy died at age 63 from Alzheimer's disease on Oct. 5.
She was diagnosed with the disease while seeking medical help after a car wreck. According to The Missourian, McCarthy also had bipolar disorder, which went undiagnosed for approximately a decade.
McCarthy was born in Haverhill, Mass. and grew up in Leawood, Kan. She graduated from Shawnee Mission East High School in 1965.
She later received a Bachelor of Science degree from the University of Kansas, and a Master of Arts in English Education from the University of Missouri- Kansas City.
Prior to representing Missouri's fifth congressional district, McCarthy was an English teacher for the Shawnee Mission School District and, later, Sunset Hill School.
According to The Kansas City Star, she first became a politician in 1976 after being elected to the Missouri House of Representatives.
During her political career, McCarthy achieved much.
"[McCarthy] championed the environment, public education, women's rights, and an expansion of prescription-drug coverage under Medicare," The Kansas City Star reported.
"Harper's Bazaar" magazine once listed McCarthy as a potential first woman president of the United States.
McCarthy held a career in public office for almost three decades.
The Kansas City Star listed McCarthy as serving in the Missouri House in 1976 and the Democratic Party's national platform committee in 1984.
She became President of the National Conference of State Legislatures and was elected in the United States House, where she served for 10 years.
McCarthy also served as co-chair of the Missouri Commission of Global Climate Change. The Missouri Commission of Global Climate Change spanned over two years, 1989 to 1991, and studied scientific data.
McCarthy won the U.S. Senate seat in 1994 and was re-elected four more times.
In 2003, according to The Kansas City Star, she announced she would not run for a sixth term in 2004.
McCarthy was honored the Professional Women of the USA's Women of the Year award and the Missouri Citizens for the Arts 2005 Advocacy Award.
According to The Missourian, one of McCarthy's main accomplishments was receiving congressional approval for bi-state tax in one week.
She accomplished this with intense lobbying of Republican leaders. McCarthy referred to this accomplishment as "a miracle."
A memorial service for Karen McCarthy will be held at Unity Temple located near The Country Club Plaza Nov. 7 at 2 p.m.