Human rights organizers gain momentum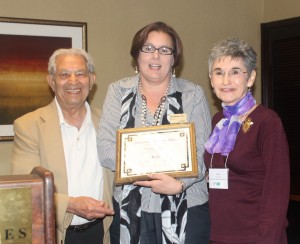 Local human rights organizers, politicians, volunteers and nonprofit organizations united to discuss human rights issues affecting Kansas City and Missouri residents.
The Sixth Biennial Kansas City Conference, "Activism for Human Rights," a joint project with the UMKC Women's Center and Global and Multicultural Education (GAME), was held Thursday and Friday at the Embassy Suites on the Plaza.
The goal of the conference was "to promote awareness and understanding of the UN Convention on the Rights of the Child (CRC) and UN Convention on Elimination of All Forms of Discrimination Against Women (CEDAW) and their local impact," and to "network with local, regional, national and international organizations for Activism for Human Rights," according to the website.
Charles Wheeler, conference honorary chair and former Kansas City mayor and Missouri state senator, spoke about equal rights for women and children.
"I look forward to the day when, for symbolic purposes, we can have an equal number of children of all ages in the back of the room, because that's where we can accurately be very effective," Wheeler said.
Sara Pedram, GAME Director, gave a special thanks and recognition to the director of the UMKC Women's Center, Brenda Bethman.
Pedram opened Friday's conference by singing "In Our Hands" to the group of about 75. It was the international theme song of the World Summit for Children candlelight vigil in 1990, words and music by David Shire and David Pomeranz.
"Like a little child
I've done lots of wishing

Hoping it would make the world ok

I wished upon a star then watched it moving farther away 'til today

Nothing comes from waiting for tomorrow hoping someone else will make it bright

It's because of you and me I see a future flooded with light

In your hands there's a world in our care

In our hands lies the power we share.

In our hands it can grow even more than we know when we all understand all that is in our hands

Sometimes when I read the morning paper something in my heart just wants to scream.

Thought the world a better place 'til one dying child's face makes that seem still a dream

Then I hear my children's morning laughter and I know there's still a choice that's mine.

Under all the blinding smoke the fires of tomorrow still shine.

In our hands there's a world in our care.

In our hands lies the power we share.

In our hands it can grow even more than we know when we all understand all that is in our hands

In our hands there is a world in our care"
NBC Evening News anchor Elizabeth Alex was the keynote lunch speaker for the event.
Alex is involved in Medical Missions Foundation, a group that delivers free medical care to developing countries, and Smile Again USA, an organization that provides reconstructive surgery to Pakistani women attacked with battery acid.
She personally sponsors a girl from the Gaza Strip with a rare disease and birth deformities.
Alex also supports Operation Breakthrough (OB), Heart to Heart, International Aid Organization and organizes a food drive to benefit St. Therese Little Flower Food Pantry.
Alex told stories of her personal humanitarian efforts in Romania and the Gaza Strip.
Jolie Justus, Missouri state senator, worked for five years to pass the Equal Rights Amendment (ERA) in Missouri. The bill was rejected for three years before she and her team were able to get it passed.
Justus spoke about the need for women to become involved in the politics of childcare assistance and aid for single parent families.
Sister Berta Sailer, OB founder, was a panelist for the "Children and Poverty" breakaway session. Sailer spoke about the history of OB and its contributions to the community.
"We started with three children and started work in my pajamas," Sailer said. "Now we have 180 children and a one-stop shop facility with a dental clinic, medical clinic, food pantry, shelter, tutoring and counseling."
Sailer led the group on a guided bus tour of the urban core entitled "The City You Never See." The school bus departs at 5 p.m. from OB. On the 90-minute trip, parents of OB children discuss their daily lives. To sign up, visit the website or call 816-329-5225.
For more information on Operation Breakthrough, visit www.operationbreakthrough.org.
For more information on GAME, visit wwwkcglobalconcepts.org.
For more information on the UMKC Women's Center, visit www.umkc.edu/womenc.