Cricket team gains recognition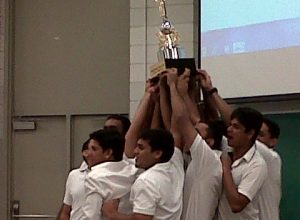 The world's second most popular sport, cricket, does not register much on the ESPN/Sports Illustrated mainstream news cycle in America. The U.S. national team doesn't play at the top level of international competition. It is not a simple game for many Americans to understand, and there are few local little-league cricket teams to pass around flyers at elementary schools.
But if you know where to look, you would find a championship Men's cricket team at UMKC.
UMKC's cricket team, the Mystics, was created in 2005 when four roommates learned of a local cricket league and decided to play.
"We [found out] there was a league nearby," current team captain Sukumar Subramaniyam said. "And I said, 'You know what? I think we can play.'"
Subramaniyam was already an avid cricket fan.
"I had played before and [UMKC] did not have a team," Subramaniyam said.
Subramaniyam said creating a team was a challenge.
"We didn't know how [anyone] played," Subramaniyam said. "We said 'Oh, you know how to play cricket? Okay, come on in.' We accepted anybody and everybody."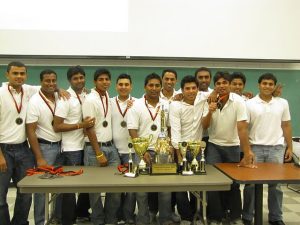 It worked. The Mystics won the Midwest Cricket League (MWCL) 35-overs championship their debut season.
"We were a huge underdog," Subramaniyam said. "We had barely any equipment. We would have to borrow equipment from other teams. Everybody would share one bat."
The Mystics repeated as MWCL 35-overs champions in 2006 and became the only three-time champion Sept. 18 after beating Pakistan XI. They claimed another championship in the 20-overs division this season and have never finished worse than fourth in any competition.
"They are a dynamic team," MWCL vice president Rajeev Kasal said. "They are very young [and] tough to play."
Yet with the athleticism and aggressiveness that usually comes with being a young team, the Mystics prefer to play smart as opposed to strong.
"We are a smart team," Anirudha Vasudevan said. "We make few mistakes."
"We don't try to hit home runs," Subramaniyam said, doing the favor of explaining his team's style of play through a baseball analogy. "We try to get runs through base hits."
He explains, just like in baseball, hitting the ball in the air can result in easy outs and hitting the ball on the ground can cause defensive chaos.
Playing with small tactics leaves little room for large egos.
"We have zero tolerance for attitude," Subramaniyam said. "We have no superstars; everybody plays a role."
The older players have initiatives in place to help develop the younger players in different facets of life. There is also a scholarship set up by the team's UMKC alumni awarded to the player with the highest GPA.
"They need to understand that they are student athletes," Subramaniyam said. "We take the academics very seriously."
The Mystics' roster has actually grown quite large, but there are still opportunities to join the team or just check the game out. The Mystics will hold open-net practices when the season resumes in April at the Swope Park cricket field.
More information can be found at www.mwcl.org.