Player of the Week: Demetria Williams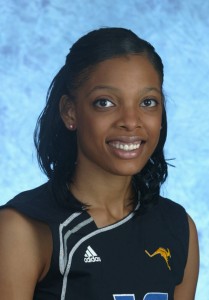 Junior Demetria Williams is an award- winning student athlete.
The Summit League named Williams "Defensive Player of the Week" on Sept. 27. Williams is a transfer student from Butler County Community College in El Dorado, Kan. At Butler, she was selected twice for the All-Jayhawk Conference and was chosen as an NJCAA All-American Honoree her sophomore year.
Williams, 20, considers her parents, Mitchell and Latanya Williams, her biggest inspirations alongside her "Heavenly Father." She attributes her strong faith to her parents.
Despite offers from East Coast schools, Williams wanted to stay close to her parents, whom she said she can go to when she needs advice or someone to talk to.
Williams also attributes some of her success to Director of Strength and Conditioning,Trumaine Carroll.
Williams said Carroll pushes her to do her best in tough situations. When she is having a bad day, he is always positive.
Williams appreciates volleyball for the speed and agility it requires.
"It's not a lot of running," Williams said. "It's like quick feet, and I have really quick feet."
On Friday, Oct. 8, Williams and her teammates took on Southern Utah University (SUU) five sets for a competitive series. SUU won the first set, but the Roos took the second and third sets. SUU took the last two matches, winning the series.
Williams and her teammates put in a valiant and competitive effort in that game.
Co-captain Kelsey Knoche led the way with 12 kills and 22 digs.
Williams contributed five spikes, nine kills and three blocks to the team. She is no stranger to blocking other teams efforts to score; she broke the UMKC school record for blocked shots earlier this year.
Williams said she believes once the team finds a greater unity they will be unstoppable.
"Our individuals' goals are so great that once we put them together as a team, we are going to be unstoppable," Williams said.
She believes two things will improve the team: getting along better and finishing.
If that happens, they are going to "take over".
Despite the loss to SUU, UMKC's volleyball team is doing okay this season. With the positive attitudes of the players and coaches and the hard work they are putting in through practice, there is little doubt this will be a successful season.