Women's soccer match vs. North Dakota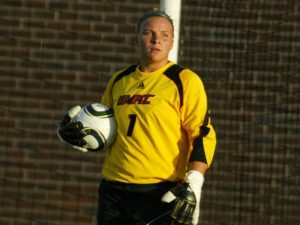 The UMKC women's soccer team showed improvement when they held conference foe North Dakota State to a goalless draw Thursday night at Durwood Soccer Stadium and Recreation Field (DSSRF).
The Roos had few chances to score but were clearly solid on defense. After allowing five goals to the Bisons last season, the Roos showed more communication and consistently backed each other up in the defensive third of the field.
"I was really happy with our defensive shape," Head Coach Anita Rodriguez said. "I thought our kids did a really good job on their marks, which normally is our downfall."
It was the Roos first shutout since Sept. 12 at Eastern Illinois and their second for the season. A wealth of the defensive credit should be given to the specific skills of two sophomores: defender Alyssa D'Egidio's ability to speed in underneath the play to clear the ball out of harm's way and keeper Jami Finnell's insistence on "punching the crap out of the ball" whenever it crossed into the box.
"Anything that's in the six-yard box is my ball," Finnell said. "I have to get it."
And while corners and crosses were put into the box regularly, the Bison failed to consistently move forward through the middle due largely to D'Egidio's awareness, pace and work rate. She had a difficult time taking the credit, however.
"It's obviously a team effort," D'Egidio said. "There were times we had some trouble, but we did pretty well getting the ball up and getting it out and keeping our keeper safe."
The Roos attack didn't fare as well. Moments of brilliance did not connect for more than a pass or two at a time; though balls were played in space where no one was and the chances given were met with a lack of composure.
"I think we struggled a little bit offensively," Rodriguez said. "Our passes just weren't on."
"It was a high-pressure game and at that point, kids are just hitting balls," Rodriguez added. "We need to get to the point that when we hit those balls we are actually finding a target instead of just hitting them aimlessly."
However, there were moments of excitement when UMKC was attacking the goal.
A nifty turn and through-ball in the 13th minute from freshman striker Taylor Bare resulted in some panic, but ultimately dissolved. Later, the Bison keeper fell down outside the box, causing a stir in the crowd but resulting in a goal kick.
The Roos best chance came about a half hour into the match. An intelligent give-and-go between Bare and sophomore winger Zaina Mayer set the stage for a gift of a cross into the box from Zaina to Taylor.
But alas, the gift was not opened as Bare, instead, put it over the bar and into the night.
"I wasn't over the ball far enough," Bare said. "That was a beautiful play; that was our best chance of the game. It was a good connection between all the forwards."
Aggressive play by Bare on the second-half kickoff resulted in a shot for sophomore winger Meagan Malloy, who looked to be the biggest threat UMKC had on the night. She consistently found space to work with despite increased pressure.
"I was looking to just turn and run at them," Malloy said. "They would mark a lot tighter. [Other teams] would drop off, so I could just turn and run right at them, but she was right on my back."
The result is the second draw in team history and is considered a building block for the second-year program. The Roos did some things well, but Rodriguez believes they can do better.
"We look to kind of clean up a little more on defense and really connect with the offense," Rodriguez said. "[Our next game] is gonna be really tough, so we really need to show up to play for that game in order to be in the game."
A goalless draw at home is not often viewed as a desirable outcome, but the Roos showed the intangibles and spirit needed to improve a young team. They won 50-50 balls, fought for everything in the air and never let a more skilled opponent dictate the game.
"We really fight," Rodriguez said. "We may not be as talented as some of these teams, but we have a lot more heart than they do."