How to: Get involved with Breast Cancer Awareness Month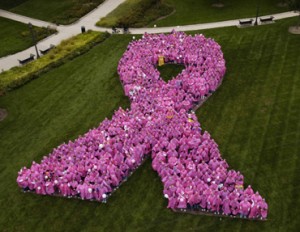 October is Breast Cancer Awareness Month. Ditch your recycling bin and rain barrel. Now is the time to put on a new color. Green is so last year; go pink instead. Show your support for breast cancer survivors, victims and the search for the cure with these hot pink tips:
Buy Pink
Have you ever walked into a store and been surprised by the amount of pink on the shelves and racks? That's because a lot of brands and products are supporters of the Susan G. Komen Foundation and breast cancer awareness. Yoplait's "Save Lids to Save Lives" campaign donates a percentage of its sales to breast cancer charities, as do many other companies.
Products geared toward a female demographic like Smashbox, Big Sexy Hair and Dove Chocolate also sport a pink ribbon. Not-so-obvious contributors include Energizer batteries, Pepsi, Reebok and even BMW. Be on the lookout for pink items to show your support.
Walk Pink
One of the most popular ways to raise awareness for breast cancer is the charity walk. Two national walks are the Susan G. Komen Race for the Cure and the Avon Breast Cancer Walk. They are in many different locations in the U.S., and more information can be found on their websites, www.komen.org and www.avonwalk.org. Grab your sneakers and your friends. Walking a couple miles goes so much further when it's for a good cause.
Wear Pink
We've all seen those funny "Save the TaTa's" shirts and "I love boobies" bracelets, but their suggestive humor is only part of the appeal. What better way to spread the word than with a cute shirt?
Surf Pink
Pink for October is a website that encourages blogs, Twitter and other website users to change their pages to pink for the month of October. Supporters can enter their names and URL addresses on the website to show their pride and encouragement. Even Sports Illustrated joined Pink for October, turning their trademark magazine header to a lovely pink.
Give Pink
If you just want to give, a little or a lot, your donation may help discover a cure for breast cancer. Donations can be made online to organizations or at events to benefit the fight against breast cancer.
Celebrate Pink
Even though breast cancer is a deadly disease that has claimed the lives of millions of women, survivors and fighters alike are reasons to celebrate. "Pink Days" are great ways to spread the love all throughout the month. Bring pink-iced cupcakes or cookies to work or school, wear your pink ribbon all day and ask for small donations to send to a charity.
Volunteering at an awareness event is also a great way to celebrate and spend time with those you love most.