Student of the week: Alex McClain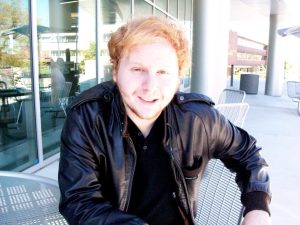 Alex McClain's freshman year of college will likely be an addition to the list of strange and somewhat remarkable things the 19-year-old has accomplished.
From participating in a game he and his friends created, to meeting celebrities and directing his own YouTube shows, McClain's days consist of more than just being a student.
"Pretty much everything about me is kind of weird," McClain said.
Like many students, McClain is interested in music.
"I spend a lot of time writing and playing music," he said. "It's kind of my passion more than just a hobby."
His passion for music inadvertently introduced him to Kanye West when McClain was playing music at his cousin's wedding. McClain's cousin, Andrew Dawson, works with West.
Not only was McClain lucky enough to get to play in front of him, West even praised his music. McClain said that during their encounter, west was a "nice fellow."
Aside from the occasional celebrity encounter, McClain and his friends have a few projects that may seem unconventional.
"We invented a sport called 'go-ball', and we take it very seriously," said McClain, not so seriously. "Explaining it would probably be impossible."
He described it as a combination of Keep Away, soccer and rugby.
When he and his friends aren't playing go-ball, they're busy with video cameras and scripts, making short comedies for YouTube.
McClain, true to his passion for writing, both writes and directs the films. He didn't give much away other than saying they are indeed funny. The most recent film, "The Life of Buck Cutter," can be found on YouTube.
Before you get intimidated when you spot this young man around campus, he, like nearly every freshman, has met some difficulties. Living on campus will never feel the same as living at home, and McClain accurately and humorously described the circumstance.
"I guess the best way to put it is like living in a cubical," McClain said.
So much change comes with transitioning from high school to college.
"Everything is about adjusting," McClain said.
Balancing time is another issue many students face, including McClain, who has found it hard to find time to socialize with people on campus.
"You can't be social in the classroom without looking like a jackass," McClain said.
McClain will likely be one of those people to look around for in coming years. Someone this interesting, genuine and all-around goofy is bound to keep our heads turning in his direction.