Player of the week: Deanna Friese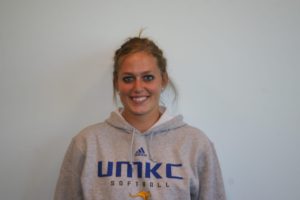 Deanna Friese, UMKC softball team member earned an athletic spotlight for her hard work and pitching talent. With her superb record of 9.93 strikeouts per seven innings, she moved to the top spot in the UMKC record books.
Friese is from a city similar to Kansas City
"I am from Kennesaw, Georgia," she said. "It's about the same size of Kansas City. It is a suburb of Atlanta, about half an hour from there. It's a pretty decent-sized city."
The only significant change Friese has recognized is the change in climate.
"The only big change was the weather," Friese said.
However, the change in weather did not deter her from making the decision to enroll at UMKC.
"I am more of a small town girl, and UMKC is more of a smaller campus," Friese said.
One of the reasons Friese chose UMKC is because of the size, UMKC is not big enough to become lost around campus or small enough to know every student.
"If I went to a big school, I would definitely get lost," she said.
Friese made it clear attending a large university was not on her college checklist. However, an attractive campus was.
"I came up here for a visit and fell in love with the campus," she said.
Her history in softball starts in family tradition
"My parents used to play as well as my aunts and uncles," Friese said.
Although Friese has not played softball her entire life, she said it was an integral part of who she is.
"It will be seven years at the end of October," Friese said. "I haven't been pitching that long."
She had big dreams of playing softball. She wanted to represent the U.S. in the Olympics.
"Well, I have always wanted to play professionally with softball," she said. "When they were in the Olympics that was my dream, until [softball] got taken out."
Even though softball has been removed from the Olympics, Friese found another way to play professionally.
"We just played the National Professional Fastpitch (NPF) team," Friese said. "I wouldn't mind doing that after college."
This past week, Friese had a chance to play against the NPF team along with the rest of her teammates.
"One of the people I grew up watching on TV with softball was Cat Ostermen," Friese said. "When we played the NPF last Thursday, I got to pitch up against Cat Osterman."
That was a dream fulfilled for Friese. She said Osterman has been one of her inspirations since childhood.
"I have looked up to her ever since I started pitching, and that's kind of who I have based my pitching on," she said. "I go for more movement on a pitch instead of speed."
Friese plans on keeping softball in her life as long as possible.
"If I could get into the Pro Fastpitch League that would be fabulous," she said. "If not, I still want to give back in a way. I will probably start coaching a team and give pitching lessons on the side."
Softball has given Friese something very valuable and she plans to pass it down any way she can.
"This sport has given me so much," she said. "I have to give some back."