'Mom, I'm just gonna do it.' KC driver at Kansas Speedway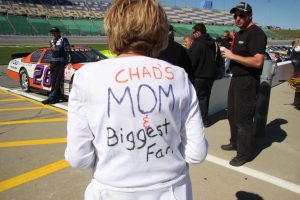 The only Kansas City driver in Thursday's ARCA race had high hopes for his first time at Kansas Speedway.
The No. 28 car, driven by Chad Frewaldt, sponsored by Hixson Construction Chevrolet in Kansas City, Kan., owned by Wayne Hixson, blew the engine in under 32 of the 100 racing laps.
"We all had such high hopes for him today," Frewaldt's mom, Connie said. "We're all out here to support him, his son are here, we couldn't be more proud."
Frewaldt beamed with pride and was eager to get the race started during practice Thursday morning when the car felt good.
"He has risked so much by following his dream to do this," Connie said. "His business, everything, he wanted to do this and said, 'Mom, I'm just gonna do it."
Frewaldt finished the ARCA Racing Series presented by RE/MAX, Menards, and the Kansas Lottery 150 in 31st place with a lap time of 33.126 seconds and speed of 163.014 mph.