UMKC goes for Guinness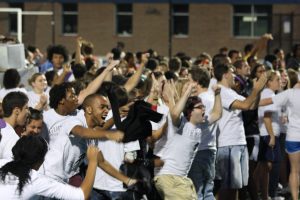 Monday evening was the night the UMKC community unofficially broke a world record.
In an effort to bring attention to Miller Nichols' newly installed robotic retrieval system, the Student Government Association (SGA) and University Libraries teamed up to coordinate this monumental event, held at 5:45 p.m. in the Stanley H. Durwood Soccer Stadium.
SGA President Klassie Alcine was very excited about this event.
"The Dean of Libraries sent me an email and said this would be a great idea," Alcine said.
SGA planned to break the Guinness World Record for the "Largest Robot Dance."
The record was set at 429 by the Whitgift Independent School in London, United Kingdom in May 2010. The previous record was 276, by Kent University in 2007. The final count at UMKC was 658 robot dancers. UMKC achieved 229 more dancers than its predecessor.
The Robot Dance event featured numerous speakers and guests from various organizations, as well as members of the Kansas City community.
UMKC welcomed political officials to the event, including Kansas City Mayor and UMKC Alumnus Mark Funkhouser and Senator Jolie Justus. Both politicians greeted and spoke with the crowd of students, staff members and families that came to do the robot.
"Saturday morning I rode a horse, Saturday afternoon I refereed at a charity basketball game, Sunday I went and watched the Kansas City Chiefs continue their unbeaten season and tonight I am going to witness a world record being broken. Is this cool or what?" Funkhouser said in his opening speech.
The dance was choreographed by the UMKC Conservatory Dance team and instructed by volunteer dance students and the UMKC Cheer and Dance Squad.
Michael Burke, vice president of King Hershey, PC also gave a few words about the event and the university.
"What a great day for UMKC," Burke said. "UMKC is the heart of our community. This is a day to celebrate not just breaking the world record, but celebrate UMKC."
In addition to the dance, several students and volunteers came dressed in elaborate robot costumes. Students Taylor Thompson and Courtney Viar danced in a silver-painted cardboard outfit with foil antennae.
The number of dancers was vital to the success of the event. In order to break the record, at least 430 dancers needed to be present.
UMKC Chancellor Leo Morton sent a memo to students to recruit others to come and dance and be a part of history.
"Text some of your friends and tell them to get on out here," Morton said.
This event also served as a benefit for the YMCA of Kansas City. A donation table was set up in the Kangaroo Court for patrons to make a donation.
"We have an opportunity to support young people across the Midwest," said Young Achievers Director (YMCA of Greater Kansas City) Michael Farris.
Students enjoyed doing the robot routine and loved dancing to the Black Eyed Peas' "Rock Your Body," mixed by DJ JT Quick from Hot 103 Jamz, who helped advertise the event.
Sophomore Preston Coughlin was pleased by the event.
"Honestly, I wouldn't be surprised if we became the robot capital of the world after that successful turnout," Coughlin said. "We not only broke the record of most people doing the dance one time, but also broke the record for best robotic dance ever executed."
Freshman Biology major Fernando Paredes was glad to be a part of history
"I came to support the school and to break the robot record," Paredes said. "I am glad to be here with the whole school."
Sophomore Raquel Sherman enjoyed the event as well.
"It was so much fun, and it's amazing to think I was a part of breaking a world record," Sherman said.
After several practice runs through the routine, the group of over 600 students officially started the "Robot Dance."
The dance was about six minutes in length. All the while, people were laughing and having fun dancing to the music and knowing that they had achieved their goal: break a Guinness World Record.
"The expectations were shattered," Alcine said. "I am in shock; to go 200 over is crazy."
Many agreed with Alcine. Happiness and feelings of accomplishment were felt across Durwood.
"I am on cloud nine right now," Alcine said. "I just love that we all came together and made this happen."
Alcine said that one of the initial goals of the event was to unite the student body.
"It was about bringing the community together," Alcine said. "We had Hospital Hill students here, we had students from Volker, and we also got the non-traditional students. We saw that some of them brought their kids with them. The freshman came and danced, too."
As an incentive for all who came and participated, SGA and Residential Life sponsored a Foam Party in the courtyard of the Oak Street Residence Hall, which had a large turnout.
The paperwork is in progress to make the record official.
For more information about the Robot Dance event, go to www.umkc.edu/news.