New print quota makes students unhappy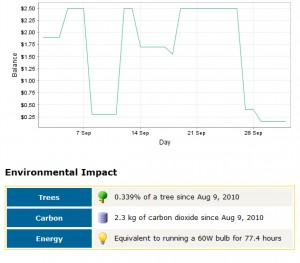 Many students would like to see an increase to the $2.50 print quota. They find it constrictive to try and budget printing.
"I think it should be a larger print quota for paying this much for tuition," student Irene Manning said.
The print quota has fluxuated from $5 a week with five cents a copy, to $5 a week with 10 cents a copy, now it is $2.50 a week at five cents a copy.
"They wanted to save the paper," said student and Information Services Lab employee Prasanna Jonnalagadda. "Reduce the waste. [With the] $5 print quota, so many people are taking more prints. Mostly they are throwing papers away. They wanted to reduce the waste."
"In addition to streamlining print and copy services, sustainability requires reducing paper waste and decreasing overall printing. To further decrease UMKC's carbon footprint, Student Government Association executives and IS agreed to set the weekly print quota for this academic year at 100 pages per week or an allocation of $5 per week," reads the Information Services news webpage http://www.umkc.edu/is/news/.
Students in classes without textbooks usually have to print class reading material from Blackboard. There have been times when some students have found themselves unable to print everything they need that week.
"I print out a lot of stuff for my classes. I think it affects most students negatively," student Kaylin Rechsteiner said. "Everyone is printing off a lot for classes."
Students with access to printers at home also use the school printers often.
"I live at home so I only print here when I absolutely have to, so it doesn't affect me so much," student Nikki Schaper said. "Although I have already used a dollar's worth so far."
Students who use up their entire print quota early in the week are able to add personal money to their quota online by going to http://umkc.managemyid.com and using a credit or debit card to add RooBucks to their UMKC One Card.
In addition to printing in labs on campus that only have grayscale printing, the Miller Nichols Library Copy Services offers color prints for 25 cents per copy, which are charged to a student's weekly quota.
"Over the summer months, Information Services and the University Libraries partnered on a project to enhance printing and copying in the IS Labs and University Libraries. The new system works seamlessly with Roo Bucks (UMKC's One Card system) so students will be able to easily print or copy beyond their weekly print quota. Students will no longer need to purchase separate cards for printing or copying once the system is fully implemented in the library. Duplex printing is also available in some labs to help conserve printing," reads the IS news website.
"I don't think people are spending that much on paper. I just don't buy that it is that much of an expense," student Emalea Black said.
Information Services was not available to confirm whether the decrease was geared toward university sustainability efforts or to cut back on costs.