Invite your 'friends' to 'The Social Network'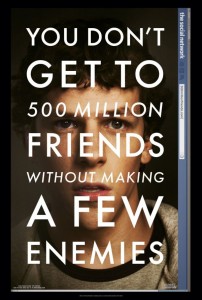 "The Social Network" explores how the popular networking site Facebook was created and who created it.
The creation is shown in multiple points-of-view.
Mark Zuckerberg, played by Jesse Eisenberg, was a seemingly angry, intelligent, Harvard student who got dumped and began a journey he never could have predicted for himself. The end of his relationship sparks a drunken blog and a type of "Hot or Not" experiment throughout his Ivy League school.
As a result, he is contacted by Cameron and Tyler Winklevoss, played by Armie Hammer, to create an elite website only for the most important people at Harvard.
Zuckerberg agrees but quickly decides to make a site of his own because he believes the Winklevoss twins' idea is too simple.
This is where the movie starts to get very interesting.
Zuckerberg enlists the help of his friend, Eduardo Saverin (Andrew Garfield), to be the business-end of the networking site he is creating. Saverin tries to be responsible throughout the movie because he is the business-end but Zuckerberg would rather wait and see how things go with the site.
After the launch, things begin to go downhill: The Winklevoss twins believe Zuckerberg stole their idea, Saverin begins to feel shafted by Zuckerberg after they meet with Sean Parker (Justin Timberlake), the creator of Napster.
"The Social Network" flips between the past and present. It shows how Facebook evolved, how the characters changed dramatically and then goes on to show the lawsuits between Zuckerberg, Saverin and the Winklevoss twins.
This movie is hilarious and makes you want to stay in your seat because if you leave, you'll miss very important details.
The characters in this movie are very different and entertaining in their own way. Zuckerberg is a sarcastic and angry college student; I think that's why I liked his character so much.
The Winklevoss's are bullies; as with bullies in real life, they think they can push other people around with their enormous size. They were definitely not my favorite people in the movie.
Saverin is Zuckerberg's best friend. He's very smart and is truly invested into "The Facebook" up until Zuckerberg becomes slightly obsessed with Parker. Saverin is responsible and level-headed.
Sean is the exact opposite of Saverin. Because he created Napster, Zuckerberg automatically looks up to him and casts some important people aside. The only thing Parker contributes is the website name change. I honestly had a great dislike for him by the end of the movie.
All in all, "The Social Network" is a great movie. By the end, I was longing to log onto my own Facebook account and see if I had any new friend requests.
It's sarcastic, funny, slightly dramatic and even kind of inspiring. I left the theater wanting to create something of my own that other people long to get their hands on.
"The Social Network" has a great cast and funny dialogue.
Whether you have an account or not, you should check it out.
A