UMKC students participate in the creation of a campus tradition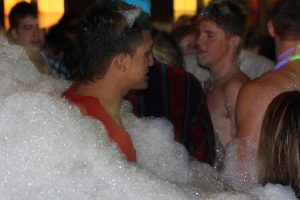 The Student Government Association (SGA) and the Office of Student Involvement (OSI) sponsored a foam party that was hosted by Residantial Life to kick off Homecoming week, Monday, Sept. 27 at Oak Street Residence Hall.
"The foam party is one of those things that UMKC has traditionally done, and tradition hits home here," said Charles Walgren, vice president of the Student Government Association.
Walgren made it clear the SGA and OSI wanted to uphold UMKC's traditions but also ensure students got what they wanted.
"The biggest thing was the student feedback, honestly that's what we are here for, and the students wanted a foam party," Walgren said. "There was an article in U-News that expressed how much the students wanted the foam party."
Both organizations said students' opinions are heard, and they are dedicated to putting effort into making successful events for students to enjoy.
The other events held to celebrate Homecoming included the APC Talent Show, "He Said, She Said," the Guinness World Record Robot Dance and the Golf Cart Parade. Every day last week, some type of event was held to commemorate Homecoming.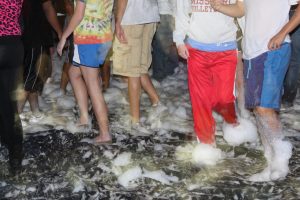 "Homecoming is one of the most valued traditions at any school," Walgren said. "You represent your Alma Mater. You represent the students who are currently here and the students who have already graduated who represent us as a university and a community as whole throughout their daily lives. With Homecoming, you honor all of those spectrums."
Walgren said one of the most important aspects of Homecoming is campus involvement, even if it's only for a few minutes.
"It's great to see students get involved," Walgren said. "It's a great time to pull everyone together to have fun."
Long-term commitment is also encouraged.
"We encourage all students to get involved," Walgren said. "We have so many subcommittees. We can use all the help we can get. The more diverse and eclectic group of people we have the better it's going to be for students and the university."
Students interested in becoming involved with SGA or helping plan upcoming events can visit the SGA website, http://studo.umkc.edu/sga/, or email Charles Walgren at [email protected]