Le Fou Frog: a Parisian bistro in Columbus Park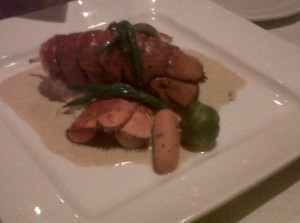 Let me start by saying my love for Le Fou Frog began early when I saw reservations could be made online through a website called "Open Table" found at www.opentable.com.
It is a free service used by many restaurants. It is convenient and takes less than five minutes. Also, there is a section where you can write in special requests.
Le Fou Frog is a French bistro with a charming atmosphere and small Parisian restaurant feel. For starters, I had an amazing Portobello mushroom salad for $10.
It was delicious to say the least. My compliments to the chef! I have never been a fan of mushrooms. I thought the texture was awful and was something that didn't belong with food, but I stand corrected.
The plate was presented with an artistic flair. I highly recommend you try this salad. To compliment the meal, French bread was served. It was warm and crunchy and a great addition.
Then, as the main entrée, I ordered the lobster tail with vanilla champagne sauce. It felt like I had lobster all wrong my whole life. The risotto and the sauce was a great accessory.
It was a great combination of flavors that complimented each other. The presentation was flawless, and I enjoyed seeing that presentation was taken into account. I always love seeing a spark of creativity the chef puts into the dish.
Le Fou Frog had a great selection of desserts. I ordered Tarte Tatin. It was caramelized apple on a pastry shell and vanilla ice cream on the side with almonds. The sweetness of the apple and vanilla ice cream were a great combination. It was not too sweet for it to overpower your palate.
Also, as a side note for 21-plus crowds, they have a great selection of wines. Since I am not of age, I had my mom come along to dinner and give me her input. She had sparkling wine from 2006 for $6.
The service was very friendly, helpful and personable. It makes customers feel more comfortable and adds to the charming atmosphere.
Overall, I am in love with Le Fou Frog. If you are planning on taking someone on a date, impress them with Le Fou Frog. It has a perfect atmosphere for a date.
This place is a bit pricey. The most expensive entrée was $48 and the lowest was $23. It's definitely high-end, but worth it.
Le Fou Frog is located at Fifth and Oak Streets Kansas City's Columbus Park neighborhood and is 13 minutes from campus. It is well worth the trip!
For more information go to www.lefoufrog.com or call 816-474-6060.