Player of the Week: Kasey the Kangaroo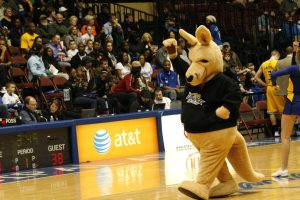 When choosing a school mascot, the discussion usually starts with three main categories: animals, historical or regional icons and famous figures. Thanks to Walt Disney, The Kansas City Star and the Kansas City Zoo, UMKC has a very unique mascot, Kasey the Kangaroo, chosen in 1936.
Our premier showstopper is Daniel Baker for the 2010 -2011 season. He was the St. Genevieve High School R-2 District's mascot for two years. They even renamed their high school mascot "Danny the Dragon."
Baker was referred to the UMKC athletic department by a high school friend, UMKC cheerleader Kate Warner. He was asked to perform as Kasey the Kangaroo summer 2010, for the fall and winter seasons.
Kasey is mostly seen at UMKC basketball, volleyball, soccer games and charity events like the Waldo Festival and the Walk for Down's Syndrome.
Baker is a freshman business major with a background in theatre performance. Since the role of Kasey the Kangaroo is an athletic character, Baker receives a partial athletic/cheer squad scholarship.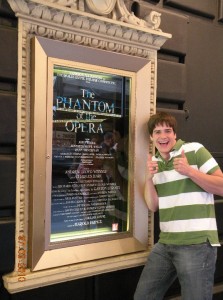 Baker's job as Kasey the Kangaroo is keeping kids entertained, making crowds laugh and having a good time during the game or event.
"I really love seeing the smiles on the children's faces," Baker said.
He considers himself a part of the cheer squad, since they work together to entertain the crowd. Since Baker is in constant performance mode, he takes a few rest breaks before going back out to perform. It is often 90 degrees inside the kangaroo suit, so Baker usually has just shorts and a T-shirt underneath.
"The best part about being in the 90 degree suit for hours is that I get a pretty good workout," Baker said
We know Kasey the Kangaroo has some pretty smooth moves, some of which Baker said he based on Disney's Timon from "The Lion King."
"I take being a mascot seriously," Baker said. "I represent wherever Kasey the Kangaroo appears. I'm a part of the cheer squad, and the symbol of the school."
Despite the heat and the demand, Baker said he enjoys bringing to life UMKC's mascot.
"The joys of being Kasey the Kangaroo are the workout," Baker said. "And since I am a people person, I'm able to play around. I can be a complete goofball around everyone with no judgment."