Bowyer feeling good at home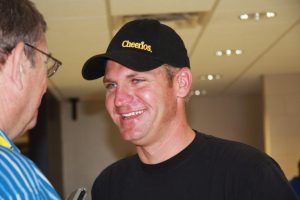 Native of Emporia, Kan., No. 33 Sprint Cup driver, Clint Bowyer, wants to win more at Kansas Speedway than any other place.
"We'll get through it," Bowyer said. "We've got to get through it this weekend. I'm here to win this race. I've gotten close a couple times, and I can promise you, if we win this thing, it will be a big party."
Racing at Kansas Speedway has always meant coming home for Bowyer and team.
Since arriving in Kansas City this week, Bowyer took his old dirt-racing team out to Harrah's casino, attended his annual fan club function Thursday night at a go-kart track and Friday night went to Lakeside Speedway, the dirt track where he began.
Bowyer appreciates letting loose as his past few weeks have been a difficult time. He is dealing with a penalty that ended his championship hopes.
Wednesday, a committee denied Bowyer's racing team an appeal of a 150-point deduction with the violation on Bowyer's winning car at New Hampshire Motor Speedway two weeks ago. Chief appellate officer, John Middlebrook, General Motors executive, will hear the last appeal to be heard.
Bowyer isn't holding out on hope.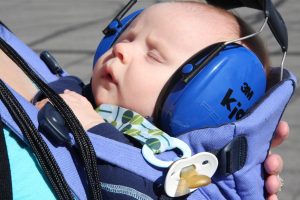 "I've told Richard [Richard Childress Racing] it's not worth fighting," Bowyer said. "In my opinion, [NASCAR's] minds are made up. It is what it is, and if you want to be a part of this great thing we call a sport, you better just go on and enjoy what it is. He's fighting hard, and I'm proud of the case that they put together. I think they worked very hard on it, they put a lot of time and energy and money into presenting a case that could prove less than a 16th of an inch how that car could be out. At the end of the day, if you're going to pick that, it is what it is."
Although the championship is no longer in sight before the end of the season in November at Homestead-Miami Speedway, Bowyer remains positive.
"I think the championship hopes are done for myself," Bowyer said. "The thing that I have to do is be the best teammate I can be. We have to bring a championship home. We still have two shots at that. But for myself and our race team, I've never finished out of the top-five in the Chase, and I want to continue that streak and want to continue that consistency in the Chase, and I think that's an attainable goal. The biggest thing is to be the best teammate I can be."
Last week at Dover, a distracted Bowyer recorded a 25th-place finish that only added salt to the wound.
Coming home to the familiar of putting engines in dirt cars, hanging with his old friends and racing go-karts against his fan club has helped Bowyer cope.
"I made some mistakes on the track last week that were uncharacteristic of myself," Bowyer said. "We made some mistakes as a team that were uncharacteristic, and our heads weren't 100 percent in the game. I don't want this mess to bother us anymore. I'm at my home track, I'm having fun and that's what I aim to do."
Although Bowyer's crew chief Shane Wilson is facing a six-week suspension, he will remain chief until the final appeal is decided.
During Friday's first practice session, Bowyer's week improved when he drove to the top of the speed chart.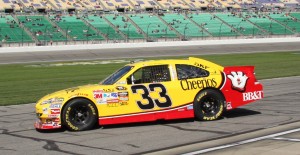 In 1985, at the age of 5, Bowyer began racing motocross and gained 200 wins and championships by the time he was 13.