A Taste of Home: Vietnamese Students Celebrate Lunar New Year
The beating of drums and clashing symbols flooded the ears of those who attended UMKC's Vietnamese New Year Event. The University's foreign exchange students brought their culture to Kansas City as they joyfully celebrated this holiday last Sunday  in the Student Union.
The celebration kicked off with a Vietnamese dragon line dance, where students in traditional dragon costumes grooved their way through the room. This animation excited the audience as they anticipated the following acts.  Students then put on a Vietnamese fan dance, a short story skit and sing-a-longs. Students Tommy Luu and Amy Tran hosted this event and rehearsed with the groups for a month prior to the Vietnamese New Year.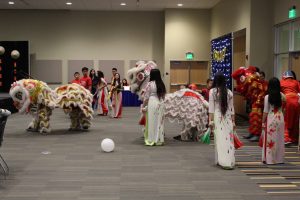 "We tried to make it so that everyone understood [the event], not just our culture," Luu said. The two hosts were welcoming to all who attended, whether they were a part of the culture or not.
Traditional Vietnamese food was provided for the audience after the performances. Generous servings of chicken vegetable rice, pork buns and dumplings were followed by boba tea, or bubble tea, courtesy of Dragon Fly Tea Shop.
This event not only catered to foreign exchange students from Vietnam, but also the extended families of those who are now citizens in the U.S. For some, it was a familiar remembrance of home. For others, it was an opportunity to experience the traditions of Vietnamese culture through fellow classmates. UMKC never hinders our diverse student body when it comes to embracing different cultures.