Latino youth visit campus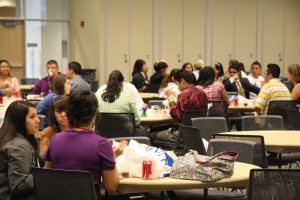 The Office of Multicultural Student Affairs and Admissions sponsored Latino Youth Day Sept. 24 in the Student Union.
"Latino Youth Day is designed to expose and enhance the knowledge base of local high school students on their post secondary opportunities," said Tiffany Williams, director of the Multicultural Student Affairs Office. "We do that by recruiting Latino alumni, and then just Latino community members who are committed to seeing students be successful, so that they can have conversations about the different career opportunities that are available to them. We have about a 127 students on campus today."
Admissions and Multicultural Student Affairs sponsor two youth days each semester, Latino Youth Day and African American Youth Day.
Students came from Alta Vista, Sumner Academy, J.C. Harmon, Wyandotte, Washington and F.L. Schlagle high schools.
"Admissions sends out a letter to the counselors and principals at each of the schools," said Byron Ceasar, student graduate assistant to multicultural student affairs. "Kansas City School District wasn't open today, that usually isn't the case, but they will get invites for next semester."
Students were divided into groups based on their interests. "They are in these little breakout career sessions," Ceasar said. "Where we have professional presenters from all over the Kansas City area give presentations to them, to motivate and excite them about these different career areas and hopefully motivate them to attend college and further their education. We have seven different break out groups and they vary by the type of field."
Students were able to choose from Business, Health Careers, Communications/Media, Education, Law/Government, Engineering/Computer Sciences and Fine Arts/Performing Arts.
"There's two different sessions so they go into two different career fields that they had previously picked," Ceasar said.
High school students get the chance to speak with UMKC students and the professionals one-on-one.
"Some of the student presenters and the professionals mingle with the [high school students] as they eat lunch," Ceasar said. "They will also go on campus tours."
There are many ways UMKC students can help with the event. Mark Linville, U-News Assistant News Editor, gave the introduction for keynote speaker Daniel Silva, of the Local Initiative Support Corporation. Linville was closing speaker for the event.
"We give tours to the youth," student ambassador Darius Jackson said. "We sit on panels to give the student perspective on what it takes for college. I hope students will see that even as a minority student there are still opportunities out there to go to college to do better for yourself."
Student volunteers were welcome to participate.
"I decided to volunteer because I am a Spanish major, so this interested me," Sydney Llewellyn said. "I want to speak with the students and I think it's interesting to get them to want to come to college."
Many students who participate in one of the campus youth days find it an encouraging experience.
"There are statistics that show the retention rate of students that attend youth day are better than the students who are not involved in youth day," Ceasar said.