Save your money on 'Saved'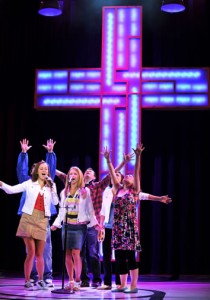 The Kansas City Repertory Theatre's 2010-11 season opened Sunday, Sept. 19, on a sour note with its latest musical endeavor, "Saved!"
The well-respected theater, under the artistic direction of Eric Ronsen, seeks to build on the momentum created with last season's acclaimed hit "Venice," now in production in Los Angeles.
The inspirationally-intentioned but mostly disastrous "Saved!," directed by Gary Griffin, revolves around a group of Christian high school students.
While the scenario of walking through the halls of high school praying or singing hymns may seem unrelatable to most, the universal themes of teen angst, rebellion, sexual tension and self-discovery are not.
The play is based on a 2004 film written by Brian Dannelly and Michael Urban.
Both the film and musical counterpart center around two girls entering their senior year at American Eagle Christian High School.
Mary, played by Laura Huzinga, who makes her KC Rep debut in this play, discovers her boyfriend, Dean, played by Davis Hull, is gay. Upon praying for guidance, Jesus advises her "to do everything in her power to save him."
She interprets this as divine permission to convert Dean by having sex with him, subsequently leaving her pregnant.
Her best friend, Hilary Faye, played by Justis Bolding, is the school's moral compass by her own admission. Her character, dogmatic and hypocritical, is deliciously cliché.
She terrorizes the school as the leader of the clique, the "Christian Jewels," spouting Bible passages with the same conviction as any great televangelist.
Gillian Goldberg plays Cassandra, who, after being expelled from multiple public schools, becomes the latest enrollee at American Eagle. With her chain smoking, swearing and references to the devil, she is both an adversary and potential convert for the Jewels. Her character is delightful to watch, and delivers some of the best one-liners of the night.
The actors struggled through musical numbers, which in many cases, are too long with lyrics that lose the message the original writers wanted to convey. All but a few of the show's 17 musical numbers were weak lyrically and executed poorly.
At an hour and a half, the pivotal characters have developed sufficiently for the audience to see individual evolution.
However, Hilary Faye's role was too large for Bolding to portray more than adequately. This left me disappointed.
The show, however, had some notable moments.
In the number, "Something Wrong," the lyrics and choreography were executed skillfully, and the ensemble piece provided cushion to the weaker voices, allowing the cast to finally connect in some way with the audience.
The male cast was a notable exception to the oftentimes dry and lifeless performance of the female leads.
Patrick Andrews, who played Roland, the handicapped, sometimes-atheist and always antagonistic brother of Hilary Faye, delivered a fantastic performance.
Even in a wheelchair, he raced laps around anyone else performing alongside him.
Because the production is still in development, "Saved!" has the potential to be both dynamic and relevant, while sending an important message, but until the kinks are worked out, I'd recommend you save your money and just rent the DVD.