Movie Review: It's Kind of a Funny Story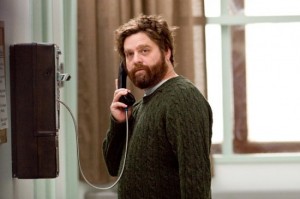 Craig checked himself into a mental ward to avoid suicide. He vomits when he's nervous, worries about life after high school and is in love with his best friend's girl. He has to give up his shoelaces and keys before sharing a hospital room with an Egyptian man named Muqtada, who hasn't gotten out of bed in weeks.
"It's Kind of a Funny Story," opening in select theaters Oct. 8, is based on the popular novel of the same title by author Ned Vizzini.
Upon check-in, Craig, played by Keir Gilchrist, finds the teen wing of the ward has been closed for renovations and will be admitted to the adult wing. In the adult wing, Craig sees the future he is headed for and changes in the process.
"I hope people gather a message about hope and finding people and connections with and that those can be healing," Gilchrist said.
Directors Anna Boden and Ryan Fleck tried to stay true to Vizzini's vision in the film.
"[Vizzini] really walks that tight-rope between being respectful of a very serious subject matter and approaching it with humor and in a very entertaining way," Boden said. "We tried to stay true to that tonal balance. We also kind of looked to John Hughes who deals with very serious teenage problems in his movies but does so with a light touch."
Comedian Zach Galifianakis plays the supporting role as Bobby. Bobby is introduced as a doctor in the waiting room who asks Craig why he's in a hospital waiting room instead of out "bird-dogging chicks."
Craig later finds out Bobby is a patient.
Bobby becomes a tour guide to Craig in the facility. It isn't until he involuntarily reveals his illness in a burst of rage that he and Craig create a real friendship.
"I like characters that are fragile and a little bit on the edge," Galifianakis said. "I feel like Bobby certainly was both of those, even though he's kind of the sage to Craig's character. He has the capacity to be angry, so it wasn't much of a departure from me, from my real life."
Fleck acknowledged the delicate topic of depression and the stresses of being a student today.
"I think that college students have a lot of the same pressures that Craig is going through in this movie," Fleck said. "It's a great feat to get into a college but you still have a lot of stresses, not just your studies. Getting a job when you get out of college-that seems to me these days quite the impossibility, and I have a lot of sympathy for you college students. This movie, it might make you feel a little better for a little while."
"It's Kind of a Funny Story" is an important story told in a delicately comedic way. This technique allows the audience to receive the message in a touching way without comedy blanketing intent.
"It's Kind of a Funny Story" was quirky, funny and Galifianakis-ified with meaning.