Campus history: Manheim Hall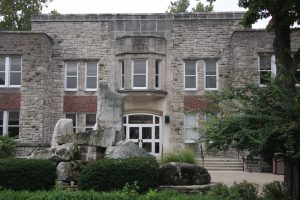 The first new building on campus, completed in 1935, opened as the Science Building. After 1942, the Chemistry and Biology Building opened, now the Fine Arts Building across from Swinney, and was called the Geology-Physics building.
After the Physics department moved out, it became the Geosciences building.
In 1999, to honor Ernest Manheim, professor of Sociology at UMKC from 1940 to 1970, the building was named Manheim Hall. He was a "true Renaissance Man, well-recognized and respected in Sociology, but also was a well-regarded historian, writer and composer," said Tonya Crawford, senior archives specialist at UMKC Archives.
One of his original compositions, the University String Quartet, won a number of awards. He passed away in 2002 at the age of 102.
According to a Kansas City Star article published in 1974, William Volker donated $100,000 to the construction of the science building.