'Let's not and say we did'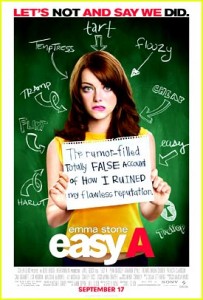 "Easy A" is a story of a girl named Olive (Emma Stone) who lies about losing her virginity.
As the whole high school finds out, the hardcore moral classmates begin to spread rumors about her and single her out. After the lie becomes public, Brandon enlists Olive's help to prevent him from getting bullied at school for being gay.
So, they fake a sex scene at a popular girl's party. Afterward, geeky students ask for Olive's help to fake hookups.
As Olive sees the damage the lie caused her reputation, she realizes there is no turning back.
Comparing herself to Hester Prynne from "The Scarlet Letter," she begins wearing a red "A" on her wardrobe, stirring controversy. Olive begins to realize the importance of telling the truth.
It is easy to give an "A" to "Easy A." This movie is funny, has great one-liners and is just fun to watch.
Emma Stone does a great job of playing Olive. Stone delivers great witty lines and makes Olive a character to be reckoned with.
The scene where Olive finds out the school counselor, Mrs. Griffith (Lisa Kudrow), gave a student, Micah 'Cam Gidaget,' chlamydia, was pretty creepy. But other than that, this movie is just plain funny.
It's worth the ticket price. From the fake sex scenes to the quick witty remarks by the characters, it kept me laughing.
I could tell from the reactions of people after the movie that I was not alone in this feeling.
It's also very sweet. My favorite scene has to be when Olive looks out her window and Todd is standing on a riding lawn mower holding speakers. He recreates Olive's 80s movie fantasy, "Say Anything."
This movie is filled with great acting, a great script and funny scenes.
"…Whatever you are looking for, you can probably find it at some point in 'Easy A.' comedy, good whole-hearted laughs…" Stone said.
A+