Recipe: Caramel apple muffins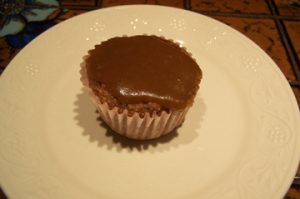 Bisquick is my favorite shortcut to delicious muffins. With fall just around the corner, crisp, fresh apples are available everywhere.
Ingredients:
2 cups flour
2 tablespoons sugar
1 egg
2/3 cup water or milk
2 apples, peeled, cored and chopped
Smucker's Caramel Sauce
Paper baking cups (optional)
Mix flour and sugar, add the egg, milk and apples and stir until just combined. The batter should be slightly lumpy. Do not over-mix. Slightly lumpy batter will give you light and moist muffins.
Place baking cups in the muffin pan or spray pan with non-stick cooking spray. Fill cups 2/3 full with batter. Bake at 400 degrees for about 15-20 minutes or until the tops are golden brown. Let cool and spread caramel sauce over the top. Serve as a decadent breakfast with a side of eggs, or as a dessert with a glass of milk.
Have a question? Ask the cook!
When I first moved to college I finally had the freedom to eat exactly what I wanted, so I decided to make the most of it and learn how to cook. Although my first attempt started a fire in the oven and I occasionally (er, often) had to order pizza after an ill-fated try, most of the time it was edible-so I gained confidence.
Today I love exploring cultures through food, finding recipes and blending ideas into something brand new. Cooking is a creative outlet. If I find something I like, I try to figure out how to make it myself. Most of all I know that with the right ingredients and techniques, anything is possible.
Are you looking to impress someone with a homemade dinner? Curious about something you found in a restaurant? Ready to start cooking but don't know where to begin? I've been there! Email me your questions at [email protected]