Tattoo of the Week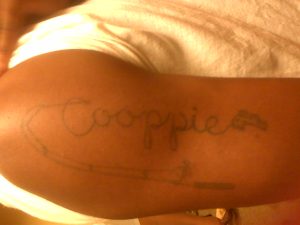 Often times tattoos embody a cherished memory and serve as an eternal reminder of a loved one or life-changing event.
Student Dionte Neal uses body art as a way to remember an important promise and for entertainment purposes.
Aug. 26, 2009 marked the start of Neal's venture into ink. Along with a yin-yang symbol on his chest, he designed a fishing pole for his right bicep to commemorate a promise made by his late grandfather, Alphonso Nelson.
Nelson assured Neal they would spend quality time and take a fishing trip together.
"My whole life he had promised me that he would take me fishing. Sadly, he died last summer of a heart attack before he could carry out his promise," Neal said.
"The fishing pole is a great reminder of him," Neal said. "And it honors the promise he didn't get the opportunity to keep."
Exactly one year later, on Aug. 26, 2010, Neal returned to the tattoo parlor and got another memorable piece of art.
Now famous around the Oak Street dorms, Neal's "mowing man" tattoo depicts a stick figure pushing a lawn mower south into his pelvic region.
"This one's for pure humor and self-entertainment," Neal said. "It's always going to be funny, and I'm always going to laugh when I look at it."
Neal has begun a tattooing tradition. Every year on Aug. 26, he plans to dedicate more of his body to permanent art. Along with the recent "mowing man," Neal inked an earth onto his chest and a drum on his back with his girlfriend's initials.
While he admits the addition of his girlfriend's initials may have been a fleeting choice, his plans to continue adding tattoos to his collection aren't faltering yet.
"Next year, on the 26th, I'll get four more." Neal assures.
"Even when I'm old and it blurs into a little black pile of ink on my skin, I'm still going to laugh when I look down at it," Neal said. "Not only that, anytime I show someone that tattoo they're going to die of laughter, too, so it's worth it."