Player of the Week: Taylor Fisher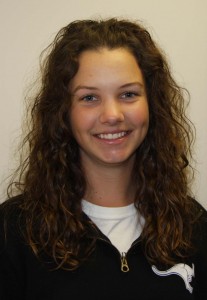 Taylor Fisher is a member of the UMKC womens golf team. Fisher recently led the team to 17th place and finished at a tie for 7th at the Wolverine Invitational in Michigan last weekend.
Fisher grew up in the South, and coming to Kansas City was a culture shock for her. She was a stranger in a large and unfamiliar place.
"I grew up in Hot Springs, Ark," Fischer said. "I loved it. I love being from the South."
After living in Kansas City for a while, she was shocked even more by Kansas City's size.
"I am not used to big towns, towns like Kansas City," Fisher said. "I never know where I am going because it is such a big city. Personally, I prefer small towns because I like them better."
Fisher's involvement with golf is family based.
"I started seriously playing when I was about 13," Fischer said. "My dad plays golf and my brother plays golf in college, so my dad started making me play. He saw that I had talent and a good swing. He started making me go out to practice and got me in some tournaments."
Fisher said if it weren't for her dad, she wouldn't be playing golf.
Fisher said her family is her support system and biggest motivation.
"My parents are my biggest fans; they always want to know what is going on in my life. They always try to help me in any way possible," Fischer said.
Since her family is heavily involved in golf, she can always turn to her family for advice in the sport.
"I have a big golf family, so they are really into it," Fischer said. "My dad is always there to push me because he started with golf."
Fisher said she hated playing golf at first, but her love for the sport grew over time.
"I definitely grew to like golf because when I first started I hated going out and practicing in the heat," Fischer said. "The more practice I got, the better I got, and the more I grew to like it,"
Fisher ending up at UMKC was not her original plan. She actually had never heard of UMKC until the past golf coach talked to her.
"I was playing in a tournament in Connecticut; the old coach came and watched me during the tournament," Fischer said. "She talked to me after the tournament and asked me to visit UMKC. That was the first time I ever heard of UMKC."
A future in golf has never been something Fisher has pictured herself in. She plans on going with the flow and letting life take her where it will.
"For now, I am trying to do as best I can in college," Fischer said. "I don't know what I will be doing in the future. I have never seen myself playing professional golf. I am not sure if I could do it, but I will see where it takes me."
Correction
Last week's "Player of the Week" stated Taylor Fisher "shot a 72 in the third round, tying the lowest third round ever at the University of Michigan Golf Course." She tied the school record for the lowest round, not the course record.