Nelson-Atkins Hosts Third Thursday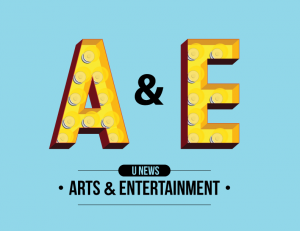 Every third Thursday at the Nelson-Atkins Museum of Art there is a monthly ritual of food, drinks and music. However, when it comes to predicting exactly what to expect from Third Thursdays, there is no clear answer. As vendor Amanda O'Shaughnessy describes it, "Every third Thursday there's something." That "something" is dependent on the particular month. This month, Third Thursday was not a disappointment.
Right next to the Nelson-Atkins' monumental shuttlecock sculpture and around the unnecessarily large pond were well over 10 food trucks containing every kind of food one could imagine. From Cuban cuisine to hotdogs, ice cream and multiple kinds of tacos, these trucks were overflowing with foods waiting to be eaten.
In addition to the food, there were lawn games – slightly intoxicated patrons seemed to favor the bean bag toss in particular. For those who sought a more adventurous activity, there were giant plastic bubble balls event-goers could crawl inside. Once in the bubble, the participant would run full-force at someone else in a different bubble. The outcome of this bubble duel, as one would expect, does not typically vary.
Whether Third Thursdayers were tossing beanbags or frolicking in enormous bubbles, they had incredible live music to accompany them. After the National Anthem was performed by the Heartland Men's Chorus, the energetic DJ Joe turned over the mic to an up-and-coming local band, Outsides. Typically playing tunes along the same beat as modern day alterative, The band immediately captured the attention of the crowd with their synth-filled, upbeat pop sound.
The attendees of the September Third Thursday were abundant and indescribable. No two people were alike. People from all different walks of life came to the event dressed in everything from corsets to cowboy boots. If you were in sweatpants, you fit in. If you were dressed up in a little black dress and heels, you fit in just as well. What you came in didn't matter, and why people came seemed to vary.
"I heard there was beer, drinks, and food," UMKC Student Kayla Butler explained.
Butler came with a group of three of her friends, all of whom nodded their heads in agreement. Students not legally allowed to drink discussed coming for the live music and the eclectic menu. As Butler later mentioned, "Who doesn't love a good food truck?"
Many local vendors attended the event as well. Directly inside the museum was a a vendor from Go Locl, promoting local food brands by giving out free samples. After trying all three, people were encouraged to pick their favorite and vote.
The Nelson-Atkins will host the next Third Thursday event, Night Circus, on Oct. 15.