5 Reasons Why You Should Go to the Plaza Art Fair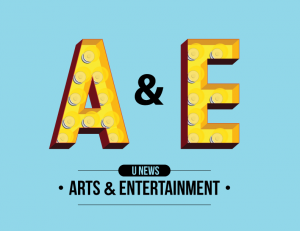 The Country Club Plaza is only a mile from UMKC, and yet I never find another student who goes to the Plaza. I can think of only one reason that you shouldn't go—the parking is a nightmare. However, I can think of a hundred reasons why you should go. Below are my top five reasons why you should go to the fair.
1) The Art: Many people think that the art on display is only for the rich and stodgy, or that it's the kind of art you would find in an office. That couldn't be further from the truth. Yes, you may find a few stuffy booths, but a good art fair, such as this one, has a mix of styles. The important thing is to keep looking. If you do, you will find glass-bubble jewelry, a sculpture of a man being shot out of a cannon, photos of doors in cornfields and 2D mixed media pieces that bring back the nostalgia of summer vacations.
2) The Artists: Some artists look intimidating and like they don't want to talk to people, but they love talking about their work. Genuine questions about their method and influences can lead to an interesting conversation about how a friend of the artist made a suit out of Hot Hand chemical warmers and he and friends rubbed the guy in the suit it was hot and then they waited to see how long he could stay in it.
3) Food and Drink: The fair is right along the plaza, which hosts some of the best food in Kansas City. But many of these restaurants can be pricy and take many hours. During the Art Fair, many of the Plaza restaurants will have booths among the art selling portable versions of their food for a lower price. Have you ever wanted to try parmesan, white-truffle French fries? You can try these at the Capital Grille booth. You can also find duck fat fries, lobster bisque, burnt-end nachos and many different types of hamburgers at the different booths through the Fair. Each of these booths also sell classic and signature drinks and wines. Even if art isn't your forte, coming down to enjoy good food and drinks with friends is a good way to spend an evening.
4) Culture: Even if you hate art, it can be like vegetables; they will make you stronger in the long run. Learning about the different styles and current trends could help you in more areas than just art. It might inspire a marketing idea or a short story. Or it could just give you a stronger argument as to why you hate art. But there is a chance that you might finally find the kind of art you like.
5) Support Starving Artist: Yes, some of the pieces will cost thousands of dollars, but there will be many prints and pieces that will be under one $100—even under $50. What you might buy isn't made in China and isn't mass-produced. It is made with care and expresses something personal to the artist. Instead of buying something from Amazon or a gift card, surprise a loved one with something special and one of a kind. Also, be sure to ask for a business card that you can pass to your more financially, secure parents who will soon be shopping for Christmas gifts for their favorite student.
Bonus: Recommendations: These are a few tried-and-true artists that I have admired and collected from over the years, or new names to the fair that I'm looking forward to meeting.
1) Kina Crow, Booth 308—3D Mixed Media of sarcastic, oddly childlike figures
2) Jodi Perry, Booth 332—Paintings of circus tents and women flying away on a kite
3) Chris Dalquist, Booth 300—Local photographer who prints lonely landscapes on gold painted metal
4) Clifton Henri, Booth 140—Photographs that capture people, ideas, and oddly surreal landscapes of doors in odd places
5) Kreg Yingst, Booth 440—Old fashioned printmaking techniques capture the soul of great musicians from The Beatles to B.B. King to The Doors
6) Ed Pribyl, Booth 525—The featured sculpture of a man being shot from a cannon looks intriguing
7) Seth Smith, Booth 500—2D Mixed Media pieces capture the boredom and nostalgic longing of childhood vactions