Blue Mondays not so blue after all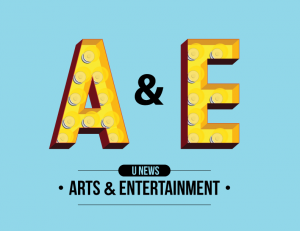 The 2nd Monday of every month just got better with Blue Mondays, a poetry open mic night at the Uptown Arts Bar.
Picture the sounds of smooth jazz, a dimly lit bar, people from all backgrounds and good conversation. After asking the bartender if I was in the right place, I walked into the area where all the sound was coming from to meet the host of the event, David Arnold Hughes. A poet and a retired firefighter, David gave me the scoop on what Blue Mondays is and his vision as the host.
"My idea for running this microphone is to get poets from all over, together," said Hughes.
I welcome all styles of poetry."
At each Blue Mondays event, a featured poet showcased in addition to poets from out of state, local favorites, poetry veterans and first-time performers. . Blue Mondays is a brainchild of The Writer's Place, a local non-profit community center for writers of all kinds. The Writer's Place started in 1977 and they've built a legacy that the Kansas City art scene relies on. They work with children in local schools and help writers get published. The Uptown Arts Bar co-sponsors the event.
The featured artist of the evening, Sara Minges, nicknamed the "Queen of the Short Poem," is a witty, 22-year veteran from Nebraska, now living in Overland Park. She has been published multiple times and is able to use her writing to help others as a licensed professional counselor and registered play therapist. She is funny, serious, sad, random, and most importantly, paid! David mentioned that he makes sure all his featured poets are compensated. The funding is provided by donations and Jumpstart Art, another non-profit that, according to their website, was "organized to assist emerging artists by connecting them to community resources in theater, visual arts, literary art, spoken word, music and dance."
There were various styles and a wide range of content at the Blue Mondays event. Some artists were sang their pieces while some utilized comedy. I met an artist that goes by Toaster – he was my favorite of the night. The 24-year-old wordsmith performed a piece that reflected the pain of racism against Japanese Americans. He spoke about how his grandparents fought for America only to come home to discrimination, how stereotypes make people think he loves anime, and how he's not just white or even Japanese, but a human.
I also ran into a UMKC Medical student who was actually there to perform in the standup comedy event that followed Blue Mondays. He represented the lighthearted flipside of the event, improvising a hilarious piece that involved a forest, fictional characters and a pointless journey.
If you're interested in poetry, reading, writing or hearing lyrical devices that would make your English professor blush, Blue Mondays is a great event for you. It's free, located in a great venue, and everyone is welcoming. For any artist looking to get your pieces heard, contact Hughes, The Writers Place or the Uptown Arts Bar to sign up.