UMKC sees a record number of freshman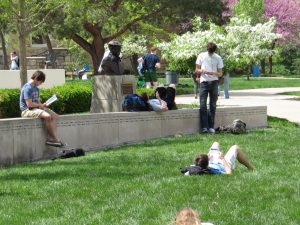 UMKC has seen the largest overall enrollment in its 77-year history.
The number of students enrolled in undergraduate, graduate and professional programs reached more than 13,500 this fall.
In addition, UMKC has had a record number of freshman enrolled at the university.
"We are really pleased with the enrollment increases we've seen as of the first day of the semester," said Vice Chancellor for Student Affairs and Enrollment Management, Mel Tyler. "In fact, this is a historic enrollment, the largest we've ever seen at UMKC."
The number of incoming freshman is 1,129, the largest in UMKC's history, representing an increase of almost 15 percent compared to last year.
At new student convocation, it was an ocean of blue when students put on their official UMKC freshman T-shirt.
"Our record freshman and transfer student enrollments—along with the work we are doing to help students achieve success and their degrees—are moving us in the right direction," Tyler said.
There was a 10.8 percent increase in transfer students as well with total of 1,541 students.
To put it in more simple terms, UMKC had an increase of 150 more students than last year's enrollment.
These numbers have made an overall increase of almost four percent more in student enrollment.
Underrepresented minorities including African American, Hispanic and Asian students for first generation college students and transfer students showed an increase as well.
These figures constitute and overall increase of 22.1 percent enrollment.
For more information about enrollment go to www.umkc.edu.