Newcomb Hall: more than just a hall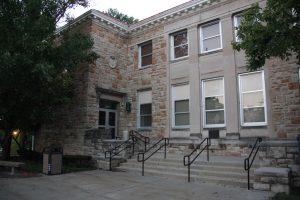 E.H. Newcomb was the university's Executive Secretary from 1928 to 1938. He is the man thought to have been the driving force behind the inception of the University of Kansas City, before it was the University of Missouri – Kansas City (UMKC).
Newcomb worked closely with William Volker and investors to start the university and obtain financial backing.
Newcomb Hall, built in 1936, started as the University of Kansas City Library building, with enough space for about 250 readers.
The building is the third used for the University of Kansas City.
Beginning with a collection of 12,000 items including books, journals, maps, records and manuscripts by Robert M. Snyder of Snyder Library.
The library rapidly grew with the help of many sizable book and financial contributions.
One donation, in 1948, by Miss Lucy Smoot, a 41-year Kansas City schoolteacher, presented the library with a set of the "Original Journals of the Lewis and Clark Expedition (1804-1806)."
Close to 1953, the library had grown to 170,000 pieces, not including scientific materials.
In the 1960s, the building of the Miller Nichols Library, 10 times the size of the old one, was a relief from the bulging University of Kansas City Library.
After the transfer to Miller Nichols, the building was then referred to as the "Old Library Building."
For a number of years the building was used as a "canteen," similar to the first floor of Royall Hall, classrooms and various university offices.
By 1982, the University telephone switchboard system had been moved in. Over time, as technology changed, the name, 'Information Services' took over the old switchboard system.
Sept. 28, 1984 the 'Old Library building' was officially renamed Newcomb Hall in honor of the man whose vision is what UMKC is today.
By 1985, The Western Historical Manuscript Collection (WHMC) and the University Archives had moved into Newcomb Hall.
WHMC and Archives now encompass the entire top floor. Information Services Networking and Telecom division occupy the remainder of the building.