Hear ye! Hear ye!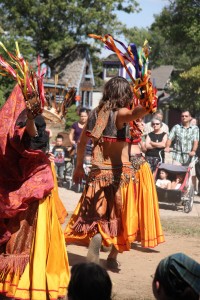 The annual Renaissance Festival is open for another fun-filled season.
The festival takes you to Canterbury, England to a time of knights, gypsies and pirates.
The festival allows dogs, too, so bring your four-legged friend.
This is the place to go for great turkey legs, apple dumplings and bread pudding.
In addition to the great food, there are local artisans that craft everything from jewelry, wood mugs and jars to other old time creations. In many shops, you can see the artist at work making the goods.
There are great places to shop all over the festival. Buy your pirate hat at the Pirates' Trading Company or make your own perfume at Majika Perfumes. You can even get your fortune told by psychics.
Many shows and extra attractions have a small admission fee. For $2, you can go to the pirates' side and visit a dungeon museum or get lost in a maze.
If you just want to enjoy free attractions, the Renaissance Festival does a great job of keeping children and adults entertained the whole day with dancers, performances and parades.
The festival has something for everyone. For adults, there are places to taste different wines or beers and pirate shows for mature ears.
Take pictures with the numerous Middle-Age characters roaming around for everyone to interact with, including Princess Elizabeth or the Executioner of Canterbury.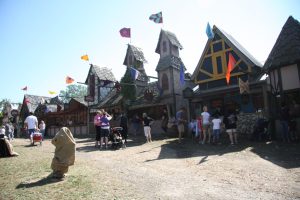 It is quite a drive from UMKC but it is totally worth it.
If you prefer to go to a themed event, they have a couple coming up.
Myths of the Highlands is Oct. 2 and 3 and will feature highland games, Scottish goods and Celtic dancers.
The weekend of Oct. 9 is the Hounds of Canterbury, where you can bring your dog dressed up for a pet costume contest and an agility contest.
The last themed event is in honor of Halloween. It begins the weekend of Oct. 16 and features a costume contest, pumpkin carving, trick or treating and a spooky surprise. Dracula will return for a Phantom's Feast the weekend of Oct. 21 through Halloween.
The Renaissance Festival is a great place to go for the weekend to forget the weekday stress. It's open every weekend, including Columbus Day.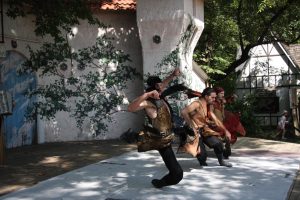 The parking is free and local retailers offer discounted tickets.
For more information on the Renaissance Festival, visit www.kcrenfest.com or call 913-721-2120.