Book review: Chuck Palahniuk 'Tells All'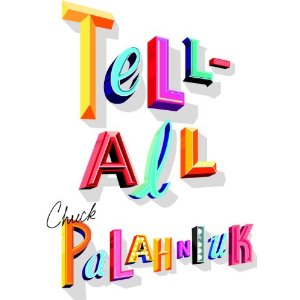 Chuck Palahniuk hit us hard with "Fight Club," a novel and film that engrossed pop culture followers in the late '90s by storm. Palahniuk plans to capture us again with "Tell All."
The tagline of "Tell All" is "Boy Meets Girl. Boy Gets Girl. Boy Kills Girl."
Palahniuk released the tagline before the book hit the shelves. Minimalistic yet intense, the tagline was sure to grasp the attention of old and new readers alike.
For those of you who have read "Fight Club," get ready to witness a work that surpasses it.
The writing style in "Tell All" is completely different from past novels Palahniuk has written, specifically due to the constant use of names. Palahniuk drops names in bold throughout the pages of "Tell All," to clearly point out the reason for them being there. I advise readers to research those names.
Palahniuk also uses empty quotes and exaggerated writing, a new quality of his writing style.
However, Palahniuk does stick with overzealous description and writes pages of details. These details could be in relation with the simplest things, such as a description of dead spiders.
The time frame for the novel is the 20th century; the locations are Hollywood and New York. The setting is the world of fame and glamour. Everyone has dreams of show business and fortune.
We follow Katherine Kenton, a movie star falling from her throne of celebrity and glitz. She is a psychotic, but popular actress addicted to the taste of alcohol who parades from million dollar home to million dollar home. Even though she has all the luxury the world has to offer, she still yearns for one person who can love her unconditionally.
The story of Katherine Kenton is narrated by her dedicated assistant, Hazie Coogan, who literally does everything for Katherine, literally. Coogan completes all the tasks from simple to complex, lending to the reason Kenton is a star.
Coogan also completes dull chores for Kenton such as defrosting her icebox and ironing her sheets because she "can't afford" to sleep on wrinkled bedding.
Coogan is similar to Kenton in so many ways, yet she does all the work behind closed doors and lets Kenton take the praise.
"Tell All" is definitely a must-read book Palahniuk. I would not be surprised if the novel is adapted to film.