Midnight Underground Circus: Great idea, lacking execution
On first mention, the Midnight Underground Circus, sponsored by LiveKC, sounded like an exquisite event. In fact, the hype and marketing promised not just a good time but "The Greatest Show Under the Earth." The event's website boasted such amazement as "beer and bubbly," "death defying acts" and a "stunning surprise at the stroke of midnight."
This appealed to everyone, it seemed. With a turnout of 3,500 people, the event drew a large crowd. But LiveKC did more than that; they also appealed to a wide range of people, millennials and otherwise. Upon walking into Municipal Hall at 301 W 13th St., different social circles gathered "under the earth," including carnival fans, party-goers, KC's posh and pampered, punks, hip-hop socialites, students, and several costumed/face-painted oddballs.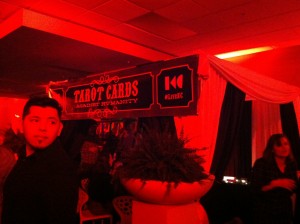 Unfortunately, though the event inspired frenzy (some scouring the Internet, willing to pay $120-200 for last-minute tickets), the LiveKC first-time endeavor wasn't executed well enough to justify desperation.
To start, "free" bubbles and beer was one of the more persuasive justifications for the $62.50 ticket, but having to wait 45-90 minutes for 4 oz. of champagne or 12 oz. of beer made many question the cost of admission.
The upper level of Municipal Hall featured various forms of entertainment, including "Tarot Cards Against Humanity," ski ball machines, basketball hoop arcades and ring tosses. Sadly, the wait times averaged 45 minutes or longer. Most people are unwilling to stand in line that long at World's of Fun, let alone at a circus nightclub.
To the organizers' credit, the ambiance was absolutely sultry. In Municipal Hall's mezzanine, a circular floor with open balconies, red lights hued every inch. This gave the game and booze floor a beautiful, mesmerizing feel. Downstairs in the main hall, the layout had a similar but distinct atmosphere. In the center, purple and silver banners hung from the ceiling, illuminated by multicolored laser lights bouncing off the fabric. This setup worked well in echoing the mysterious and sensuous performances by Quixotic aerial and choreographed dancers, all of whom proved Quixotic Fusion is a true Kansas City gem.
In truth, the dancers were the most impeccable and astounding part of the event.  Unanimously, KC attendees seemed to find the Quixotic talent untouchable and a saving grace amongst even the most disgruntled. But the "death defying acts," which deserve such a title, were not the only main event. As promised, at the stroke of midnight, a circus emcee, standing 10 feet tall on wooden stints, announced the big midnight reveal: the '90s hip hop group Salt n Pepa was to perform. Immediately, the crowd screeched and gasped with glee and wonder.
The performance began with laser lights beaming into everyone's eyes and Salt n Pepa bobbing around on stage, but within 30 minutes the show ended, leaving the audience wondering "When did Salt n Pepa start performing Beyoncé covers?"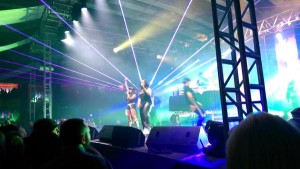 Once the hip-hop group walked off stage, the mystique and vibrancy of the night died a slow death. Attendees drifted toward the coat check by the hundreds. Despite the 10 or more diligent staff members rushing to get coat after coat, people waited almost as long as they had for drinks and games.
All in all, the experience was a phenomenal idea, but the hiccups made for a lively discussion about what kind of expectations the Kansas City public holds. Is $60 per admission more suited for LA or NYC? How many tickets should have been sold, if resources for events such as these are lacking or, rather, a rare and tall order to fill? Who was LiveKC targeting?
According to its website, LiveKC's "goal is simple, make Kansas City a more attractive place for Millennials to work, live, and play."
But can LiveKC events satisfy all types, shades and degrees of millennials? There has to be a reason some attendees forgave the long waits, boasting of the night's brilliance, while others called it a costly disappointment. LiveKC is looking to accomplish a worthy mission: putting Kansas City on the map by introducing phenomenal events meant to garner a more cosmopolitan and thriving vibe that's definitely needed and only slowly gaining momentum. In other words, Kansas City is new to the entertainment game. Learning how to walk for the first time, stumbling occasionally is just part of the learning curve.