BETTER KNOW A PROGRAM: ROOLAND
DJ PullStones International plays the tunes straight from the islands and around the world.
[one_third last="no"]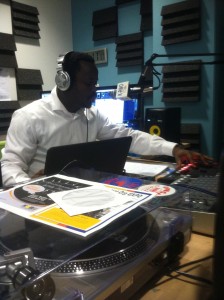 [/one_third]With an eclectic mix of upbeat Latino jams, dancehall raga, hype-reggae, soca (carribean calypso) and more, PullStones International is here to play music "as you feel it, mon."
Some say he's the happiest DJ on K-Roo. Trinidad-born PullStones puffs each track with an ad-libbed enthusiasm that shows a true love for the international groove. He knows a thing or two about rhythm, and he's got the air horn sound effects to prove it.
Outside the studio, PullStones is the Student Union Building Operations Manager Roland Hemmings. When he's not making sure things are running smoothly in the Students Union, PullStone is working on a doctorate as well as his dance moves.
You can "git wit da riddim" on "Rooland" 5-7 p.m. Friday nights on k-roo.org. Text in your comments at 816-287-0090 and PullStones will guarantee a friendly shout-out over the tropical thump.