Player of the Week: Cosmas Ayabei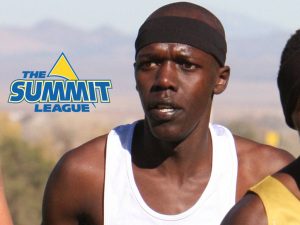 Cosmas Ayabei, from Kenya, is a UMKC cross country runner. Ayabei, named Summit League Male Athlete of the Week last Wednesday, said he was unaware of the honor until the interview for this article.
"…for real? I didn't know that I was The Summit League Athlete of the Week!" he said.
Ayabei took second at the Hawkeye Invitational with his best time of 18:56.23, according to a press release.
"This is actually my third year of running," Ayabei said. "I have been committed to running track at UMKC full-time but have experienced some hiccups here and there due to a nagging injury."
Despite the injury, Ayabei was voted Newcomer of the Championship at The Summit League Cross Country Championship with his third place finish last season and a first team all-league honoree.
Ayabei said UMKC was an easy choice.
"I like cross country at UMKC because of how wonderful the people are here," he said. "We exist as a community, and that is where most of my best friends are. I also like it because we are growing pretty fast and I think we will produce some fabulous results this season. I am really proud to be a member of this team."
Ayabei said he came to UMKC in fall 2009 "because of its location and the reputation of the school and cross country/track and field programs"
"I have to admit that I really like math classes," Ayabei said. "I also enjoy science classes. I like baseball too and I think I could do pretty well at it if I trained hard enough. I believe I can do anything, which is my favorite saying."
Ayabei said hard work and progression are his immediate goals.
"I have seen improvement from our first meet this year, compared to this time last year," he said. "I think it is very important to add value to what you do. The progress stimulates you to work harder."
Upon graduation, Ayabei is eager to go back to Kenya. He hopes to continue in the sport after graduation.
"That is my ultimate goal and I won't feel satisfied until I run and win at an international race, such as the Olympics," he said.