The end is near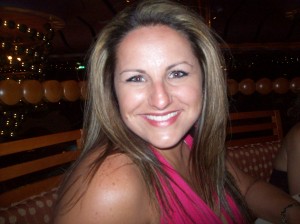 OK, well not really. The school year has just begun and already May 7 seems so close, yet so far away. Just 236 days away. But when you've been in college for seven plus years, 236 days feels like it will be here tomorrow.
We've all made it through the first few weeks of classes. During the week before school started, the weather was so hot and humid in Kansas City it made one wish to strip down and run through the nearest water hole in this "City of Fountains" bearing all our usually-hidden bits.
But somehow, the first week of school brings on the beautiful, cool weather of fall.
Fall brings on the usual nostalgia too. My birthday is in October, along with pumpkin patches, hayrides and the anticipation of Halloween. Oh yes, and one last chance to squeeze in a camping trip to the nearest state park to roast marshmallows and weenies (the kind that don't break your heart).
Besides a camping trip and hopefully an upcoming small birthday celebration, I've recently taken a short excursion to Charlotte, N.C. and Columbia, S.C. for four days.
I traveled with a group of friends to watch a dear friend (and recent UMKC graduate) graduate from boot camp in the U.S. National Guard. I watched him walk across the stage last May to receive his bachelor's degree and I just traveled halfway across the country to witness his next life achievement.
The pride and respect I have for this man fighting for his country and his supportive wife is immeasurable. Congratulations 'D' and 'R' for taking the chance on the next chapter in your lives. (Tear, choke, sob)
This trip to the East Coast encompasses one of my life's passions: traveling.
If you've read this column at all since January, you would know I spend a significant amount of time traveling. Well, a significant amount of time for a full-time student, single mom of three daughters (yes, four females in one house) with two jobs, two dogs and a partridge in a pear tree.
Since January, the Bahamas, Puerto Vallarta, Mazatlan, Cabo San Lucas, Long Beach, Hollywood, Venice Beach, Miami (twice), Coco Beach, Chicago, Ft. Lauderdale (twice), Colorado Springs, Denver, South Beach, Orlando and now Charlotte and Columbia (No, I'm not loaded).
Traveling is just about the only thing I do for myself. Literally.
I've also recently experienced an immense amount of heartbreak and pain. I do a pretty good job of putting on a good face and getting through each day with little to no expression otherwise.
But the toll it takes is sometimes too much to ignore.
If you take nothing from this snippet of too much self-disclosure, remember this: cherish the ones you have who are true and tell them every day you love them. Time is too precious with the ones worth your time. Life is so short.
But also forgive. Take whatever time necessary to forgive and let go. Life is also too short to hold on to what others have done to bring you down.
It's hard to imagine forgiving the worst of hurts sometimes, like what I'm going through now, but it must be done.
I'm not saying you have to take the ungrateful, grass-must-be-greener-on-the-other-side womanizer back, but keep your guard up, forgive and move on! If he or she realizes the grave mistakes they made and care to make it right, they'll be chomping at the bit to try to fix it.
A very wise, fellow writer/filmmaker once said, "If you want to move forward, you have to be willing to see it end."
I'm moving. Thanks KB.