How did I end up a Roo?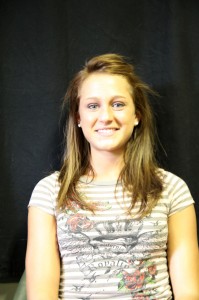 In my life, I don't let choices make themselves. Admittedly an over-thinker and oftentimes a perfectionist, the plans I make for the future are of vital importance to me.
After all, not just any ol' Joe Schmoe makes the cut into medical school these days.
Competition is fierce when it comes to higher education and as a result, my college search aimed for top-of-the-line academia and a plethora of résumé-building, character-developing student organizations to be available at my future university.
Unfortunately, this is not quite where the University of Missouri- Kansas City came to mind.
True, UMKC offers up cafeteria style student involvement opportunities. The transfer of the Roo Fair to the new student union has allowed me to visit every sorority, fraternity and hole-in-the-wall interest group in a neat, orderly fashion. Heck, the new process is more similar to trick-or-treating now than it is visiting individual offices.
But that's not why I became a Roo.
Originally, I was looking at the self-proclaimed "Harvard of the Midwest," also known as Truman State University in Kirksville, Mo. Washington University in St. Louis was also a top choice. As a pretentious high school grad, the school's top ranking in pre-medical student preparation, undergrad research and generally known prestige were appealing whether or not I knew laboratory work was my cup of tea.
Wishful thinking aside, applications were sent and fingers were crossed. For the next few weeks, my part-time job was applying for scholarships. If you'd ever like to know what kind of leadership skills I possess, obstacles I've overcome, or even how I will make the world a better place, please refer to the gigabyte of documents I collectively refer to as my 'scholarship folder.'
After all, I refuse to pay for college for the rest of my life.
When it comes to undergraduate schools, no one needs to head to Yale for a simple biology degree. The meat comes when you apply and choose the graduate school where you will be trained to live out the rest of your professional life. Thus, the illusion I would be 'choosing' my dream undergraduate college came to an end when I quickly realized scholarships would become my decision maker.
I kissed my argyle, elitist dreams farewell and fell back into reality.
Fast forward a month or three, to the day I received a relatively innocuous white envelope addressed from UMKC. Tucked inside was my gold and royal blue ticket!
UMKC had chosen me as a Trustees' Scholar. The powers that be had carefully reviewed my stats, judged my aptitudes and critiqued my potential- my decision was made.
Today, I sit here with little financial care in the microcosm of college that is my new world. I couldn't complain about college life yet even if I wanted to. Already, I feel my roots beginning to anchor as I delve deeper into student organizations and spread my wings through the variety of student programming.
I couldn't be happier with the choice that was made for me.