Dean fields school of education complaints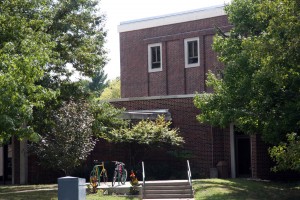 In recent weeks, the School of Education (SOE) has been the subject of much ire.
Many students are displeased with the direction the administration is taking the program, and some are angered by the recent changes.
These problems and general dissatisfaction are causing tension between students and the SOE faculty and staff.
Communication between the two parties has proven ineffective so far.
In order to get to the bottom of all the issues, Dean Wanda Blanchett, Professor and Ewing Marion Kauffman Missouri Endowed Chair in Teacher Education for the School of Education, set up an emergency open student forum with students and faculty Tuesday, August 31.
The forum revealed students were angry about a few main issues that could affect their education and remaining time at UMKC.
These issues include new implementation of trial-based software known as LiveText, an assessment system for the SOE.
"The new system includes electronic performance-based assessments and can also include student development of an electronic portfolio," Blanchett said. "LiveText allows us to implement a standard-based assessment that will document students' knowledge, skills and dispositions on a performance basis.
The program provides students with an online digital workspace, provides students with an electronic portfolio and provides them with a significant opportunity to use state-of-the-art technology. Students can instantly review instructor's feedback with the program."
Students are not pleased with the addition of LiveText because they must complete an assessment workshop to obtain a license and learn how to use the program.
"We will be treating this implementation year as a pilot year and will be providing LiveText complimentary subscriptions to all students who are enrolled in courses containing a major assessment in the fall semester 2010 or the spring semester 2011," Blanchett said. "All students who have already registered for the SOE Assessment workshop will receive a full refund".
After the complimentary period, the students will pay for their LiveText subscriptions outside of their student tuition fees.
"Schools[and]colleges of education, as well as other accreditation academic units, often include the costs associated with their unit assessment system in their student program fees," Blanchett said.
"The School of Education has the lowest student program fees on our campus at $10.30 per credit hour."
Another issue is student-teacher placement.
Many students in their senior year will begin their semester of student teaching.
The students usually receive placement well in advance, but due to recent issues with the Kansas City Missouri School District, the assignments were delayed and some students still have to be placed in a school.
"We are currently searching for a new field/clinical experiences coordinator and will resolve these issues, as our performance in this area must improve significantly," Blanchett said.
An issue regarding the confusion over an introductory course for the Secondary Education program was also mentioned.
The mix up was over Introduction to Teaching, the actual intro course for the secondary education program.
Another course title, Gateway to Education, similar to intro to Teaching, has become the recommended course for incoming freshman.
An advisor mistakenly told students they had to take the course, only offered during the summer session.
These students had already taken the Intro course and were not incoming freshman.
"They perceived this as a program change when they were in an advising meeting with the chair of the Division of Curriculum and Instructional Leadership," Blanchett said. "She suggested they take a different introduction to teaching course from the one that they had been previously told that they needed.
The issue was appropriately addressed and communicated to the students but there seems to be some concerns that this situation happened in the first place."
With so many new staff and assessment software, Blanchett believes the timing of these changes caused confusion.
Blanchett and the SOE are committed to making changes within the department and working towards improving student/faculty relations.
"We need more frequent and consistent means of communication with students and for students to communicate with us," Blanchett said.
She said she is currently working to fix every issue brought to her attention by the students at the open forum.
She has taken responsibility for what has gone wrong in the department and has vowed to students to make changes and ensure more problems don't arise in the future.