Steven L. Kanter: A dean's story
UMKC's School of Medicine selected Steven L. Kanter, M.D,, to serve as the school's new Dean after Dr. Betty Drees, who held the position for 12 years.
Kanter, a neurosurgeon, was a faculty member at the University of Pittsburgh School of Medicine in Pennsylvania since 1991, and served as Vice Dean from 2002-2014. He received his undergraduate degree from Texas A&I University and earned his M.D. at the University of Texas Medical School in San Antonio. He completed residencies in general surgery and neurological surgery in 1982 and 1987, respectively, at the University of Florida.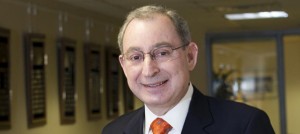 He also served as the Editor-in-Chief of Academic Medicine, the Journal of the Association of American Medical Colleges from 2008-2012. He received the Merrell Flair Award, the highest award given by the AAMC's Group of Educational Affairs, for his contributions to the journal.
"This is an important juncture in the history of the UMKC School of Medicine because it is nearing the end of its first half-century, and that raises interesting questions about what should be the directions and strategies and goals for its second 50 years," Kanter said.
Kanter aims to use his past experience as vice dean at other medical institutions in order to lead the school down the right path. He said that his work at the University of Pittsburgh helped him transition into his new position as UMKC's Dean of the School of Medicine because he is used to working with urban populations in metropolitan areas.
"I am enthusiastic about beginning a process with students, staff, faculty, alumni and other key stakeholders to contemplate in what ways the school should build on its existing strengths as it prepares to embark on this next very important phase of its journey."
Along with his clinical and administrative experience, Kanter brings his knowledge of medical informatics, which is the use of information to improve the quality of care for patients. Medical informatics also helps evaluate large amounts of data on patient populations so methods can be developed to maximize patient care and improve medical practices.
One of the first things on Kanter's to-do list as the new dean is to meet with students, faculty, staff, alumni and others on what he calls a "listening tour." His aim is to gather as much information as he can about all aspects of the school, so he can identify things that the school needs to address.
"My approach will be to pursue identifying those areas in a collaborative fashion, tapping the collective intellectual capital of those who come everyday to work and learn on Hospital Hill as well as many on the Volker campus and other sites," Kanter said.
Kanter said that Drees' work over the last 12 years and the team in the dean's office has helped make his switch from Pittsburgh to UMKC easier.
Outside of his position as dean, Kanter enjoys showing and raising his two Cardigan Welsh Corgis, one of which is an American Kennel Club Champion. He enjoys learning new recipes, reading and traveling when he finds time outside of his administrative work.