Concerns linger over Downtown Arts Campus
Many past and present UMKC Conservatory of Music and Dance students are excited about recent progress in construction of the new Downtown Campus for the Arts project, but some Conservatory students share concerns about the Conservatory's plan to relocate from its current home on the Volker Campus.
UMKC initially proposed the Downtown Campus for the Arts project in 2011, and the Greater Kansas City Area Chamber of Commerce named the campus one of Kansas City's "Big Five Ideas" to promote increased investment, innovation and business growth in the region. The University plans to fund the estimated $96 million project through private donations, and will pursue matching funds from the state of Missouri after donations reach $48 million.
However, the new campus may cause problems for Conservatory students when it comes to transportation, housing, dining and performance space.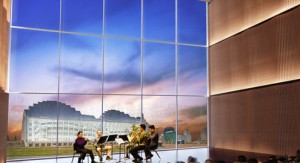 "There needs to be a student lot or some sort of parking available to students, rather than a 'find street parking' sort of mentality," said DMA student Derek Jenkins. He also expressed concern about transportation from the Volker campus into the downtown area.

"Sure, a bus system sounds nice, but there are going to be major issues shuttling students in a timely manner between downtown, especially during peak driving hours, and main campus," Jenkins said.
Dr. Scott Blasco, who graduated from the Conservatory in 2011, also took issue with Conservatory students having to commute between campuses as well.
"Even with free public transit, students can't afford to have an hour or more subtracted from their days simply for transportation," Blasco said. "Having general education classes; registrar, financial aid, etc. office errands; rehearsals and so on all located far from music classes is a tremendous daily inconvenience."
Blasco also noted that the proposal for the downtown campus doesn't include a plan to create University housing options for students.
"The literature says there will be no University housing, so unless the Conservatory is separately arranging to have affordable and safe housing available close to downtown for hundreds of students, there's yet another big practical hurdle for students to figure out how to clear," he said.
Affordable housing options are available for students near the Volker campus through the University and by outside entities. However, housing costs in the downtown area may prove expensive for many students compared to housing costs near the Volker campus area.
The downtown campus proposal does not include many dining options for students, which could require students to bring meals to campus or to eat at nearby establishments.
"I'm a full-time tenure track professor, and I can't afford to buy meals every day," Blasco said. "Students certainly can't."
The downtown campus currently does not include plans to construct a performance hall. UMKC officials previously announced that performances will continue to be held at the James C. Olson Performing Arts Center, located at 4949 Cherry St. on the Volker campus.
"Every arts campus needs a performance space," Jenkins said. "As far as I know, there is only a small recital hall in the proposal. This means that we will be renting out [the] Kauffman, a very expensive option, or have to shuttle students to and from downtown to the existing White Recital Hall on campus. In my opinion this defeats the purpose of a new campus."
Former Composition Department graduate teaching assisstant John Chittum also believes the issue of performance space on the new campus needs to be further examined.
"Performance space is already a premium for UMKC students," Chittum said. "Students need ready access to inexpensive, or free, venues for performance."
Chittum also pointed out that holding performances away from the Volker campus could cause fewer students to attend Conservatory concerts.
"Let's be blunt. The public transit in Kansas City stinks. If students have to travel further for a concert they're already unsure of attending, they will not attend. It will become a barrier of entry," said Chittum.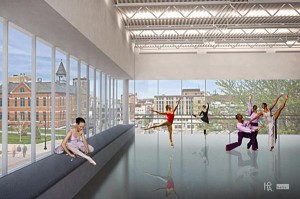 Blasco expressed concern about the rhetoric used to promote the arts campus, specifically the idea that relocating Conservatory students into Kansas City's downtown will contribute to the "vibrancy" of the area.
"I suspect that a significant part of that predicted vibrancy has to do with the economic impact of having several hundred hungry college students spending large parts of their days right next to a newly developed commercial zone," Blasco said. "That is not motivated by a desire to improve education for the students, but rather to improve the commercial health of the district on the backs of already-debt-burdened students."
The potential economic impact of the arts campus should not be the center of discussion, according to Chittum.
"The conversation should focus first, foremost and always on the student experience," Chittum said. "Anything else is nice, but universities have to remember that their job isn't to make investors happy, or even to make students happy, but to provide the experiences students need to succeed, whether they know it at the time or not."
While University officials have been proactive about promoting the new campus, many student questions remain unanswered.  Blasco said he sent an email to Dean of the Conservatory of Music and Dance Peter Witte last year to express his concerns with the downtown campus, ubt still has not received a response.
Jenkins expressed frustration with the lack of information available to students about the arts campus.
"This building should be about the students and faculty, and there needs to be more transparency regarding the administration," Jenkins said. "All we know is what we hear secondhand, and that is unacceptable."